Even though I'm not Chinese, and don't have any Chinese heritage as far as I'm aware, we've celebrated Chinese New Year for as far back as I can remember 🙂 I pretty much grew up on dim sum – every week when families would go out for a traditional English Sunday roast lunch, mine would go out for traditional Cantonese cooking. I adore dim sum.
In a way, it kind of gave my family more of a sense of community. The restaurant we went to, Chung Ying Garden, always had such a welcoming and inviting atmosphere. Everyone was enjoying themselves with good food and good company. Today I think that a lot of families don't spend that kind of quality time together; they don't all come together over enjoyable and healthy food, which is quite sad.
I still go to the Chung Ying Garden, with family but also with friends 🙂 I've had the majority of celebrations in my life taking place at that restaurant!
When I was younger, we used to go there every year for Chinese New Year. We'd have great food and then venture out to where the Chinese dragons and lions dance. I find that the December 31st/January 1st New Year seems less about celebration of the year ahead, less about community and joy between friends and family, so I've always enjoyed the colours and energy at Chinese New Year 🙂 There is a serious element too, because the dragon has a challenge of knocking down a cabbage that is strung up high. If he misses or doesn't knock it down then that means bad luck for the coming year.
So, with thought of family in mind my Mom and I are doing things a bit different this year due to me moving country soon. We decided to get out all of our recipe books and make the Cantonese food we love 🙂 I'll be putting several recipes up so be sure to check back for more great (and easy!) New Year recipes!
This recipe is for one of my all time favourite dim sum, siu mai (pork and prawn dumplings). I'm getting hungry just thinking about them! Oh, for all you American's out there, prawns = shrimp 🙂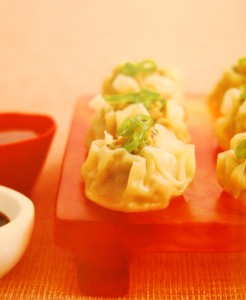 Siu Mai (pork and prawn dumplings)
Makes: 24
Preparation time: 20 minutes
Cooking time: 10 minutes
Ingredients:
300 g (10 1/2 oz) minced (ground) pork
300 g (10 1/2 oz) minced (ground) prawns (shrimp)
3 spring onions (scallions), finely sliced
60 g (2 1/4 oz / 1/3 cup) chopped water chestnuts
1 1/2 teaspoons finely chopped fresh ginger
1 tablespoon light soy sauce, plus extra to serve
1 teaspoon caster (superfine) sugar
24 won ton wrappers
You can make these without the prawns, just double the amount of pork! Or, vice versa 🙂
1. To make the filling, put the pork and prawn meat, spring onion, water chestnuts, ginger, soy sauce and sugar in a large non-metallic bowl and combine well.
2. Working with one wrapper at a time, place a heaped tablespoon of filling in the centre of the wrapper. Bring the sides up around the outside, forming pleats to firmly encase the filling – the top of the dumpling should be exposed. Pinch together to enclose the bottom of the filling, then cover with a damp cloth. Repeat with the remaining wrappers and filling to make 24 in total.
3. Line a large steamer with baking paper and punch with holes. Place the dumplings on top in a single layer, making sure they don't tough each other. Cover with a lid. Sit the steamer over a wok or saucepan of boiling water and steam for 8-10 minutes, or until cooked through. The water should not touch the steamer.
4. Serve the dumplings, while still hot, with whatever sauce you prefer! Soy sauce, chilli sauce, or sweet chilli all work very well.
Enjoy with friends and family 🙂
This will be my post for this week's Hearth and Soul Blog Hop 🙂 Be sure to check out the other recipes on there and to follow my blog for more tasty treats! More Chinese New Year recipes to come tomorrow 🙂
If you like this blog, please share and follow: