America has some really great, and fun, food ideas! I honestly don't know why most of them aren't also available in the UK, because I think they'd sell really well over here.
My husband is American and in the USAF so when I've been on base here (and also in Italy when we lived there) to do some food shopping with him I've discovered all sorts of great goodies! The latest discovery I've made is Apple Butter. It's like a very concentrated smooth apple sauce, with spices, that you can use on all sorts of things. The one I have is Musselman's Apple Butter and is spiced with cinnamon and cloves, which makes it perfect for this time of year!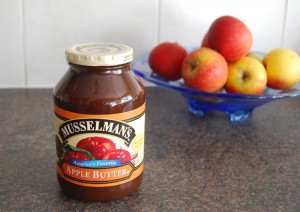 So far my favourite is to spread some on toasted seeded bread – such a great "Autumn Warmer" 🙂 My Mom likes to spoon some of it over ice cream too, which I'll try out in the warmer Summer months.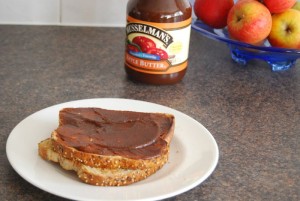 I think it'd be great in baking though and have a few thoughts of things I want to try, such as an apple cake with it either in the batter, or as as a kind of frosting on top (or even sandwiched in the middle), or mixed into an apple frosting for cupcakes, or in apple pies in some way. The possibilities seem endless!
Has anyone tried using it in baking? What did you make and how did it turn out?
If you like this blog, please share and follow: