My husband and I have had a lot of long-distance parts to our relationship. With him being in the USAF he's been stationed in countries I'm not in and sometimes in countries I can't go to (his deployment for example). Right now he's back in America but I'm still in England while we wait for the marriage notification and visa processing to be completed so I can move too. I won't lie, the waiting is horrible because I miss him so much 🙁
One thing we started early on in our relationship was movie nights – just because we couldn't be in the same country when he was deployed, etc didn't mean that we couldn't still watch a movie together! So we would plan ahead which movie we were both going to rent and then watch it at the same time while talking on voice chat online 🙂 It's as close to actually going out (or staying in) as a couple that we could get for certain times in our relationship and it was nice to share that time together 🙂
Then, about a year ago, we decided to make it dinner and a movie night where we would not only synchronise the movie we watched but also the food we ate. So we'd pick out a recipe earlier in the week, then cook it at the same time (we synchronised that via voice chat online) then eat our meal for 2 while watching the same movie and chatting some more on voice chat 🙂
Last Saturday was our most recent of these dinner and movie nights and we decided to cook some comfort food that we'd never tried to make at home before: macaroni cheese!
I found a recipe on my favourite recipe site, All Recipes and it turned out really well!
The recipe we used was Four Cheese Macaroni and we both had to substitute one of the cheeses (muenster) for something else (we chose a medium cheddar) because it wasn't something we could find. We also used mild cheddar cubed instead of "processed cheese food" because that sounds the most unappetising thing I had ever heard of! lol!
Sorry about the pictures being a bit dark – a couple of light bulbs have died in my kitchen!
I went back to basics with this recipe because the battery in my scales had died but luckily I have a pair of old fashioned scales and weights, which came in handy 🙂 The recipe calls for grated and cubed cheese.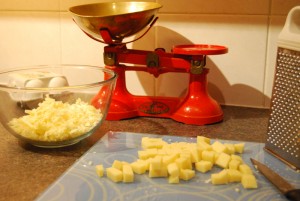 After melting all the cheese with the macaroni it gets transferred to a dish and put into the oven…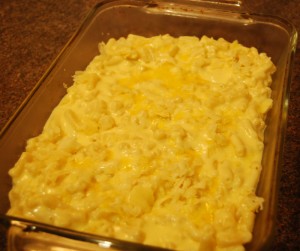 …and comes out nicely browned with buttery-cheesy-goodness!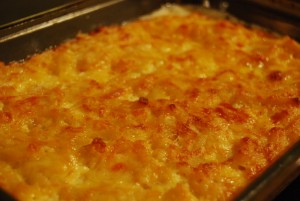 It's something we'll definitely cook again because it was so easy and really tasty!
The movie we watched was Iron Man 🙂
I'm going to use this as my first time taking part in the Hearth and Soul Blog Hop which happens every Tuesday!
If you like this blog, please share and follow: