I love Chinese food. Growing up we used to go to Chinese restaurants almost every week, sometimes more than once a week! ..the authentic ones, not the fast-food take-out places.
So I've grown up with dim sum being a huge part of my diet and even now get cravings and have to run into town to satisfy them lol! One of my favourites is ha gow (prawn dumplings) and 2 days ago when shopping I found some pre-packed in a local supermarket! Now they may not be as good as the freshly made ones in the restaurant I grew up visiting (and still go to now) but they looked tasty so I bought 2 packets and some vegetable dumplings too.
With them in mind I decided to cook a Chinese inspired meal last night, from the top of my head, and dust off my wok that I don't use nearly as much as I should. Here's the recipe, there's a couple of alterations I'll make next time (a bit more honey and soy sauce) but overall it was really delicious 🙂
Serves 2.
2 carrots, chopped into strips
2 leeks, chopped into strips
1 onion, sliced and separated into pieces
2 chicken breasts, sliced into strips
1 clove garlic, crushed
2 tbsp honey
soy sauce
I started by chopping all of the vegetables while the wok heated up with a little bit of oil in.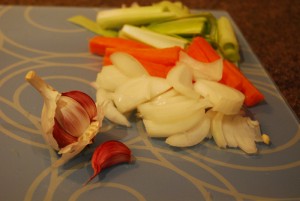 I cooked the garlic in the oil for a little while, to flavour it, then added the onions and cooked until they started to soften.
Next I added the carrots and cooked for a few minutes before adding the chicken. When the chicken was cooked (after a few minutes) I added the leeks along with the honey and several generous dashes of soy sauce, stirring to coat everything.
I cooked it like this for a few minutes, stirring to mix everything well, then served in a dish with the dumplings (which I steamed) on the side 🙂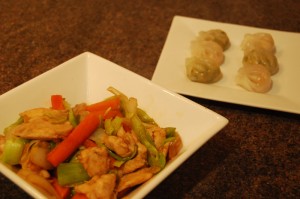 It was so simple to do and tasted great – when I do it again I'll add a little more garlic I think and play around with the quantity of soy sauce and honey, because it could have taken more of each of those quite easily.
This will be my post for this week's Hearth And Soul Blog Hop 🙂 I had so much fun last week I just had to take part again!
If you like this blog, please share and follow: