We are now definitely into "soup season" where everyone loves comfort, warm fires and hearty food. Soups are so easy to make and you really don't need a recipe to follow – just throw a bunch of vegetables into a pot with some stock, cook, blend, et voila! Soup 🙂
But there are a lot of lovely soup recipes around and I love trying them out! My Mom is the homemade soup master..well, mistress, so today we made one together from a new cookery book that was a surprise find!
The book is called Comfort Cooking: Recipes To Warm Your Heart by Bay Books. It's packed full of recipes I know I'll love to cook just as much as I want to eat them – when I first found the book and flicked through I was ravenous by the end! I've searched online and not managed to find anywhere that sells it, I got my copy from a book man at work so it may be that they're out of print. I'll do a review of the book itself in a different blog post another time and try to find more details to help source it.
So yes, it is that time of year where a nice bowlful of warm soup is a real comfort 🙂 so I have decided to do a series of posts throughout the next couple of months called Soup Season! Today's recipe is Pumpkin and Carrot Soup.
We changed a couple of things in the recipe, so I'll indicate in the ingredients list which things we altered or removed.
Serves 4-6
Preparation time: 10 minutes
Cooking time: 1 hour
Ingredients:
40 g (1.5 oz) butter
1 large onion, chopped
2 garlic cloves, crushed
500 g (1 lb 2 oz) carrots, sliced
125 ml (4 fl oz / 0.5 cup) orange juice
750 g (1 lb 10 oz) butternut pumpkin (squash), peeled and roughly chopped. <—[we used actual fresh pumpkin, like you carve at Halloween, about 2 lbs]
1.5 litres (52 fl oz / 6 cups) chicken stock. <—[we used vegetable stock as Mom is vegetarian]
1 tbsp snipped chives. <—[we didn't have any chives so we left this out]
herb scones or herb bread to serve. <—[we used seeded bread as we have that in the house]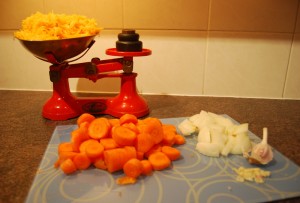 1) Melt the butter in a large saucepan over medium heat and cook the onion for 5 minutes, or until soft and starting to brown. Add the garlic and carrot and cook for another 5 minutes, or until starting to soften. Pour in the orange juice and bring to the boil over high heat. Add the pumpkin, stock and return to the boil (the original recipe also asks for an additional 500 ml, which is 2 cups, of water to be added but we thought that would make it too watery so we left the extra water out completely…and are glad that we did!). Reduce the heat and simmer for 30 minutes, or until the carrot and pumpkin are soft.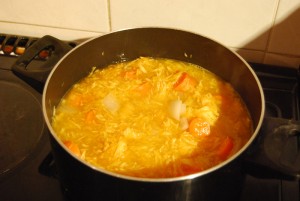 2) Blend the soup in batches in a blender (or with a hand held blender if you have one), until smooth – the recipe says to add a little more stock if you prefer the soup to be thinner, but we didn't do this, it was just the right consistency in our opinion 🙂
3) Return to the cleaned pan and reheat. Season to taste with salt and freshly ground pepper. Divide the soup among the serving bowls and garnish with the chives (or without chives, as we did). Serve with herb scones or bread – we used Warburton's Seeded Batch instead, because it's the bread we have daily and love it!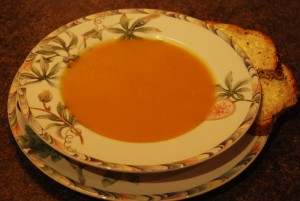 This was a great recipe and so tasty. We'll definitely be doing it again.
We only used 2 bowlfuls of soup today so the rest will be going into Pour And Store bags, when it's cooled down, and stored in the freezer for a later date 🙂 These bags are great for freezing soups, sauces, marinades, etc and they stand open on their own making it easy to put the soup in them. I'm all for ease when it comes to cooking!
If you like this blog, please share and follow: