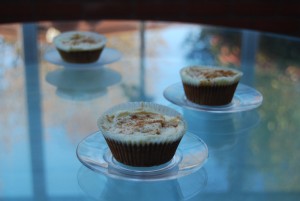 I love baking. It's something I have a real passion for and love trying out new recipes as much as developing old ones.
Last year Mom bought me The Hummingbird Bakery Cookbook which is full of delicious baking delights! One recipe in particular grabbed my attention right away, pumpkin cupcakes with cream cheese frosting, but unfortunately pumpkin season had ended so I had to wait until this year to try it out.
The Hummingbird Bakery itself is in London and they do a variety of cupcakes – when I visit London for my visa interview (for moving to where my husband is stationed) I'll be sure to pop in and gain a few lbs!
They say in the cookbook that they altered quantities of ingredients to make the recipes work for small, home baker, batches. I'm not entirely convinced the quantities are right for these cupcakes – I've made them twice now, once at Halloween and again last Sunday, and both times they've seemed very dense.
Another odd thing is that if you try to take the cupcakes out of the paper cases on the day you bake them (even after they've completely cooled) they won't come out, they stick in there and you get mess everywhere. But if you leave them until the day after, they come out fine. I've never come across that before with cupcakes and am not sure how to combat that – any suggestions? Otherwise, just remember to make the cupcakes the day before you need them instead of on the day.
Pumpkin Cupcakes
Makes: 12
Preheat oven: 170 ° C (325 ° F) Gas 3.
Ingredients:
120 g plain flour
140 g caster sugar
1 tbsp baking powder
1/2 tsp ground cinnamon, plus extra to decorate
a pinch of salt
40 g unsalted butter, at room temperature <—[50 g unsalted butter, at room temperature]
120 ml whole milk <—[120 ml skimmed milk, used both times]
2 eggs
200 g tinned pumpkin puree <—[200 g fresh pumpkin, used both times]
I made a few alterations to the cupcake recipe, I've shown those in the ingredients list in italics (and also in the instructions).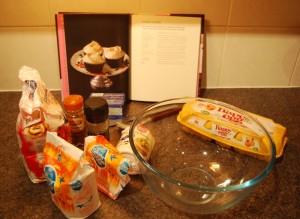 1) Put the flour, sugar, baking powder, cinnamon, salt and butter in a freestanding electric mixer with a paddle attachment (or use a handheld electric whisk) and beat on a slow speed until you get a sandy consistency and everything is combined.
[I did stage 1 by hand, first combining the sugar and butter, then adding the flour, baking powder, salt and cinnamon because our handheld electric whisk didn't feel up to the job!]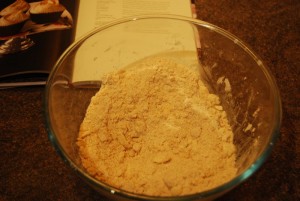 2) Gradually pour in half the milk and beat until well mixed. [I added all of the milk here because it never tells you where to add the other half! So I took a wild stab in the dark and put it all in now.]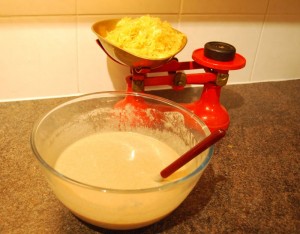 3) Add the eggs to the mix and beat well (scrape any unmixed ingredients from the side of the bowl with a rubber spatula). Stir in the pumpkin puree [fresh pumpkin] by hand until evenly mixed.
4) Spoon the mixture into the paper cases until two-thirds full…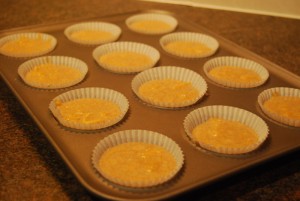 …and bake in the preheated oven for about 20 minutes, or until light golden and the sponge bounces back when touched [I poked mine with a skewer like normal – if it comes out clean then they're done, if it comes out with cake goo on it then they need longer in the oven].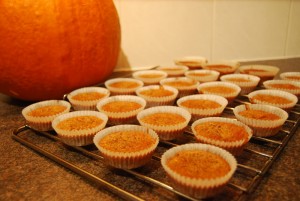 5) Leave the cupcakes to cool slightly in the tray before turning out onto a wire cooling rack to cool completely.
While they're cooling, mix up your frosting 🙂
Cream Cheese Frosting
Makes enough for 12 cupcakes
Ingredients:
300 g icing sugar, sifted
50 g unsalted butter, at room temperature
125 g cream cheese, cold
The recipe asks for you to beat the icing sugar and butter together in a mixer or with a handheld whisk, but I find that there is so little butter that you just end up with icing sugar clouds everywhere instead. So what I did is use the back of a spoon to mash the butter and sugar together for a while – the butter is so little in quantity that you won't have enough to mash all the sugar into. Then add the cream cheese and mash that with a spoon for a while too, to reduce the risk of sugar clouds when you turn on the mixer.
Now use a freestanding mixer or handheld whisk to beat everything together until smooth, light and fluffy. This can take a few minutes but don't overbeat it because it can become runny instead of the light and fluffy frosting we're after 🙂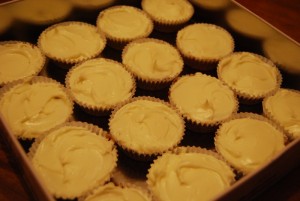 I decided to have a more traditional, rustic, finish with my frosting and used a knife to spread it on instead of a piping bag. If you're not serving the cupcakes straight away, add the frosting and keep them in tins overnight, but don't add the sprinkling of cinnamon until you're ready to serve them. Or you can leave the sprinkle off completely, I did a mix of some with and some without.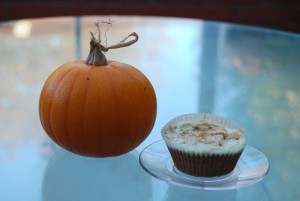 Apart from the cupcakes being difficult to remove from the paper cases on the same day as cooking, I enjoyed this recipe. One downside is that you can't taste the pumpkin (or at least, I couldn't), they taste just like cinnamon cupcakes really but I love cinnamon anyway!
This will be my blog post for the Hearth And Soul Blog Hop, a recipe hop that happens every Tuesday 🙂
If you like this blog, please share and follow: