Chris over at Serendipitous has recently talked about a gingerbread recipe that she'd love to have but is unable to get due to local ladies secretiveness! I have to admit, ginger isn't a big favourite of mine…in fact I dislike the stuff quite a lot, but I tend to know a good recipe when I see one and this one from Rachel Allen looks just right 🙂
I found the recipe on UKTV food, where Rachel Allen's recipes from her TV show are shown, but it is also available on her own website if you follow this link: Dark Sticky Gingerbread
For those who don't want to be clicking any links though, here it is!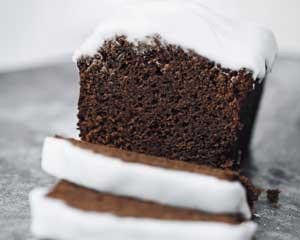 Dark Sticky Gingerbread
Cooking time: 50-55 minutes
Ingredients:
60 g (2 1⁄2 oz) butter
75 g (3 oz) golden syrup
50 g (2 oz) molasses or black treacle
110 g (4 oz) plain flour
25 g (1 oz) self-raising flour
1 level tsp bicarbonate of soda
1 heaped tsp ground ginger
1 tsp ground cinnamon
1 tsp freshly grated nutmeg
1 tsp freshly ground black pepper
100 g (3 1⁄2 oz) caster sugar
Pinch of salt
120 ml (4fl oz) milk
1 egg, beaten
50 g (2 oz) crystallised ginger, finely chopped
For the syrup:
80 g (3 1⁄2 oz) caster sugar
80 ml (2 3⁄4 fl oz) water
1 tsp finely grated root ginger
For the topping (optional):
200 g (7 oz) icing sugar, sifted
Juice of 1⁄2 lemon
You will need a 13 x 23cm (5 x 9in) loaf tin
1. Preheat the oven to 170°C (325°F), Gas mark 3. Line the loaf tin with parchment paper.
2. Melt the butter, golden syrup and molasses or treacle in a small saucepan over a low heat. Set aside.
3. Sift the flours, bicarbonate of soda, spices and pepper into a large bowl. Stir in the sugar and salt, then add the milk and egg and mix until smooth. Gradually add the melted butter mixture, stirring until well incorporated, then fold in the chopped crystallised ginger. The mixture will be runny.
4. Pour into the prepared loaf tin and bake in the oven for 50-55 minutes or until risen and firm to the touch and a skewer inserted into the middle comes out clean. Do not open the oven to test before the bread has cooked for at least 45 minutes. Allow the cake to stand for 10 minutes in the tin before removing to a wire rack to cool.
5. Place all the ingredients for the syrup in a small saucepan and simmer for 10 minutes. Prick the hot cake all over with a fine skewer, pour over the syrup and leave to cool completely.
6. If you wish, mix the icing sugar and lemon juice together in a small bowl until thick, then spread carefully over the top of the cake with a palette knife or a table knife, allowing some icing to drip over the edges.
Hope that helps Chris and anyone else looking for a great gingerbread recipe! 🙂
If you like this blog, please share and follow: