I love peas. In the age old question of "what luxury item would you take to a desert island with you?" it would be peas without a doubt! Fresh garden peas (or frozen ones) though, not the canned variety because that's just blasphemy.
When my husband and I first started dating he bought me a surprise gift and gave me the hint that it was green, my immediate (and jokey) reply was "is it peas?!" and joking aside, I would have still been a happy girl if it was hehe.
So I decide to put my pea obsession to good use and make a garden pea soup 🙂 I didn't follow a recipe, I made it up as I went along! But it's quick and simple to do, very few ingredients and you can add more or less of each of them – or throw some more in there like adding a carrot or two, some leeks maybe, even some fresh mint or bacon at the very end. That's why I love soups, they're so versatile!
Makes 8-10 servings
Preparation time: 5 minutes
Cooking time: 20 minutes
Ingredients:
1 kg frozen garden peas (fresh from pods are just as good!)
2 onions, chopped
2 cloves garlic, crushed
2 pints vegetable stock
1 pint boiling water
100 ml double or single cream (optional)
butter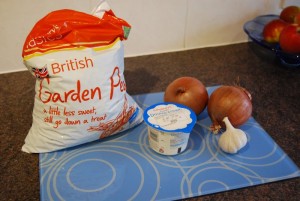 Add some butter to a large saucepan and cook the chopped onions until soft, add the crushed garlic and stir through, leave to cook for 2 minutes.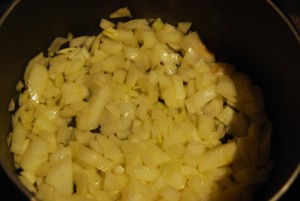 Add the peas – they don't need to be defrosted, just add them right from the freezer bag, or shell them from the pods if you're using fresh peas.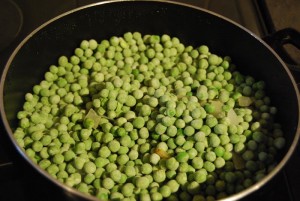 Stir and add the stock and extra water. You can add more or less stock and water depending on how thin/thick you would like your soup to be.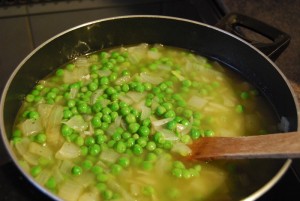 Stir through and leave to simmer for about 15 minutes, stirring occasionally.
Blend in a blender or food processor then stir in the cream if using it (we decided not to). This is also the point where you could add chopped up cooked bacon and/or mint.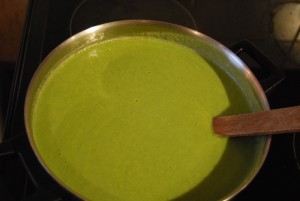 Even though we decided not to use the cream in the soup itself, we drizzled a little bit on top of each portion before serving. You could also add a few crispy bacon bits on top, or some grated parmesan cheese. …Or even all three!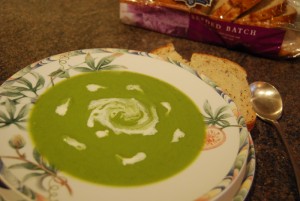 We had a bowlful each, with some Warburton's Seeded Batch, and it was delicious! I'm definitely going to make it again but with some parmesan shavings and bacon bits to top it off. This was so quick and easy to make and I'm all for ease when it comes to cooking!
The rest of the soup went into Pour And Store bags, as usual, to be stored in the freezer 🙂
This will be my post for this week's Hearth And Soul Blog Hop 🙂 Be sure to check out the other recipes on there this week and to follow my blog for more tasty treats!
If you like this blog, please share and follow: