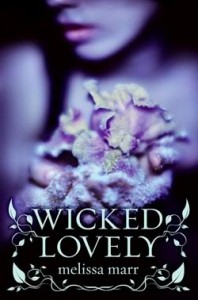 Wicked Lovely
by Melissa Marr
Genre: Young adult fiction
ISBN (UK): 978-0-00-726307-3
ISBN (US): 978-0061214677
Harper Collins
Published: April 2009
Amazon | Book Depository
Back of the book blurb:
The seductive worldwide bestseller.
Rule 3: Never stare at invisible faeries. Aislinn has always seen faeries. Powerful and dangerous, they walk hidden in the mortal world.
Rule 2: Never speak to invisible faeries. One of them, a beautiful faery boy names Keenan, is trying to talk to her, asking questions Aislinn is afraid to answer.
Rule 1: Don't ever attract their attention. Now it's too late. Keenan is the Summer King and is determined that Aislinn will become the Summer Queen at any cost. Without her, summer itself will perish…
My review:
I was really looking forward to reading this book for a long time so my expectations were high, and I'm happy to say they were met. I first saw mention of Wicked Lovely on Supernatural Snark in a list of books she was going to be reading, but even though it grabbed me right away I only got a copy at the start of this year (due to putting it on a Christmas gift list in case my husband was stuck for gift ideas). So it was the first book I read in 2011.
Before I started reading the book itself, I read the "about the author" page at the front and immediately liked the sound of Melissa Marr. She seems to have had a really exciting and varied life, which made me want to read the book even more. I felt ready for a story of new and exciting things, an adventure of sorts like the way she had described her life.
The flow of the story is very well written. We start with a snippet into the faery world but without much context to know what to do with that bit of knowledge yet, further drawing you into the book. Then getting to know the main character, Aislinn, and the world she lives in. I felt very much drawn into her world, feeling her ups and downs and wanting to know more about her and everything surrounding her.
Even though this is a young adult book, it kept me gripped and the pace of the story was just right – I read it in one day because I just couldn't put it down. The characters felt very real and the amount of detail, even though vast, didn't weigh you down or feel as though it was being dragged out. It gave so much detail but in a way that made it feel just right with the flow of the story.
There are really five characters that drew focus in the story, Aislinn, Seth, Keenan, Donia and the Winter Queen. Each felt very much an individual character and came to life on the page – there wasn't a time where I felt one character had been rehashed to form another one. I loved the character interaction and felt very strong emotions tied to certain scenarios in the book.
My one qualm is towards the end of the book. Not the plot, that stays consistent and good. But the pace, flow and style of writing seem to suddenly change in the final 8th of the book. It almost felt as if the author had suddenly changed at times but then the next line would show that it was definitely still the same author. So I'm thinking perhaps this book was originally a lot longer than 328 pages and had to be edited down…or maybe even that she got to that point, realised the length and then sped up to cram the final parts into the story. It didn't ruin it, I thoroughly enjoyed the book and storyline! But it did feel a bit out of place the way the flow suddenly changed and became "this happened, then this, then this, then this and this and this!" all in a very short space of time.
So, I'm afraid, a bit of a rating reduction for that point purely because it was such a noticeable change. But overall I absolutely loved this book and can't wait to read the next one – which I shall be going to buy tomorrow 🙂
Rating: 4.5/5
I purchased this book with my own money, and received no compensation for my honest review.
I am a Book Depository and Amazon affiliate, and I receive a small commission if you use my link.
If you like this blog, please share and follow: