This is my first time taking part in Waiting on Wednesday, a weekly blog event hosted by Breaking The Spine.
I have a lot of books I'm dying to read but the one topping my list of "Must read it!" is…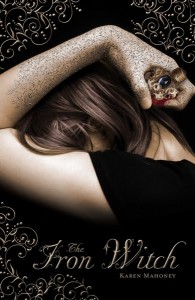 The Iron Witch
by Karen Mahoney
Young adult fiction
Publication date UK: 20th January 2011
Publication date US: 8th February 2011
ISBN (UK): 978-0552563819
ISBN (US): 978-0738725826
Amazon | Book Depository
From Amazon:
Freak.
That's what they call seventeen-year-old Donna Underwood at Ironbridge High School. A horrific fey attack that killed her father when she was just a child left Donna branded with iron tattoos that cover her hands and arms – and magically enhanced strength, that she now does all she can to hide.
Now, after ten years of wishing for a normal life, Donna finally accepts her role in the centuries-old war against the darkest outcasts of Faerie – the dark elves. Aided by Xan, a gorgeous half-fey dropout, Donna must save her best friend's life – and that means betraying one of the world's greatest secrets and confronting the very thing that destroyed her family.
Fairies, dark twists and turns, adventure, action and probably romance… I really can't wait 🙂
I will purchase this book with my own money, and receive no compensation for my honest review.
I am a Book Depository and Amazon affiliate, and I receive a small commission if you use my link.
If you like this blog, please share and follow: