This is a recipe I've wanted to try for a while but have been saving it for Chinese New Year. Mushrooms and I have a very shaky relationship – I love them but they don't love me. Or rather, they used to love me until I turned about 17 and then suddenly gained an allergy to them :/
So, why am I making a mushroom recipe? I like to live dangerously! Lol no, not really, I'm making it because certain mushrooms, such as shiitake and oyster mushrooms, don't affect me. It's weird, I know. So I've altered the recipe to use double the shiitake mushrooms for me, but am giving you guys the proper recipe and will then look at you enviously when you get to eat the little button joys that I dare not! You can really use any mushrooms you want in this though, so if you have trouble finding one of them, substitute a different kind that you like 🙂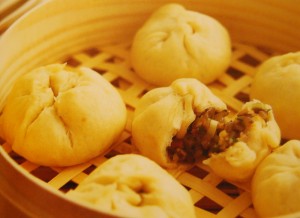 Makes 24
Preparation time: 25 minutes (1 hour rest time for the dough preparation)
Cooking time: 30 minutes
Dough
Ingredients:
600 g (1 lb 5 oz / 4 3/4 cups) plain flour (all-purpose flour)
2 tablespoons baking powder
2 tablespoons caster (superfine) sugar
3 tablespoons oil
Filling
Ingredients:
2 tablespoons oil
2 garlic cloves, finely chopped
1 teaspoon finely grated fresh ginger
1 small red chilli, seeded and finely sliced
8 Swiss brown mushrooms, finely chopped
8 shiitake mushrooms, finely chopped
225 g (8 oz) tin water chestnuts, drained and finely chopped
2 tablespoons oyster sauce
1 tablespoon soy sauce
1 teaspoon cornflour (cornstarch) mixed with 1 tablespoon water
2 spring onions (scallions), chopped
1 tablespoon chopped coriander (cilantro) leaves

1. To make the dough, sift the flour, baking powder, sugar and 1 teaspoon of salt into a bowl. Gradually stir in the oil and 375 ml (13 fl oz / 1 1/2 cups) of water and mix to a soft dough. Turn the dough out onto a floured board and knead for 5 minutes, or until the dough is smooth and elastic. Cover and let the dough rest at room temperature for 1 hour.
2. Meanwhile, heat the oil in a frying pan over medium heat, add the garlic, ginger and chilli and cook for 1 minute, or until softened. Stir in all the mushrooms and cook for a further 5 minutes, or until the mushrooms are tender. Add the water chestnuts, oyster sauce, soy sauce and combined cornflour and water and simmer, stirring, for about 1 minute, or until the mixture has thickened slightly. Remove from the heat and stir in the spring onions and coriander. Set aside to cool.
3. Divide the dough into 24 pieces. Shape each piece into a 6 cm (2 1/2 inch) flat round. Put 1 teaspoon of mushroom mixture in the center of each and gather the edges together, pinching to enclose the filling.
4. Line a steamer with baking paper and punch with holes. Place the buns on top, 2 cm (3/4 inch) apart, and cover with a lid (you may need to do this in batches).
5. Sit the steamer over a wok of saucepan of boiling water (the steamer shouldn't touch the water) and steam for about 15-20 minutes, or until the buns are firm. Serve immediately.
My Mom is vegetarian so this is a recipe we can both enjoy 🙂 The thing to remember with these buns is even if they don't look perfectly round (I know mine didn't!), they'll still taste just as good!
If you like this blog, please share and follow: