I love char siu bao! In fact, I'm sitting here eating some while I type out this recipe 🙂 The soft fluffy dough and sweet pork filling make these buns one of my favourites and something I always come home with from Chinese supermarkets!
With that in mind, I decided to make some from scratch for Chinese New Year. I have to admit, when I went to get the ingredients I did buy a packet of dough mixture (so I only had to add water and oil) instead of doing that from scratch. But I've been cooking pretty much non-stop so decided it wasn't cheating…too much! I've put the full dough recipe here though and will use it the next time I make some…which will probably be next week knowing me hehe.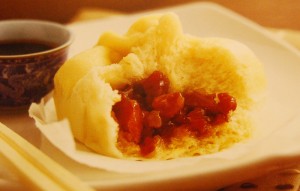 Makes: 12
Preparation time: 25 minutes (plus 3 hours proving time for the dough)
Dough
Ingredients:
2 tablespoons sugar
1 1/2 teaspoons dried yeast
310 g (11 oz / 1 1/2 cups) plain flour (all-purpose flour)
1 tablespoon vegetable oil
1/2 teaspoon sesame oil
1 1/2 teaspoons baking powder
Filling
Ingredients:
1 teaspoon vegetable oil
250 g (9 oz) Chinese barbecued pork, finely chopped
2 tablespoons oyster sauce
2 teaspoons sugar
2 teaspoons Chinese rice wine
1 teaspoon sesame oil
1 teaspoon soy sauce
1. To make the dough, pour 250 ml (9 fl oz / 1 cup) of warm water into a small bowl and add the sugar. Stir for a few seconds to dissolve the sugar then add the yeast. Cover the bowl and leave for 10 minutes.
2. Sift the flour into a bowl and make a well in the center. Pour the yeast mixture and vegetable oil into the well. Quickly stir the ingredients together and turn the mixture out onto a lightly floured surface. Knead for 8 minutes, or until smooth and elastic. Brush a large bowl with the sesame oil and put the dough in the bowl, turning the dough around to coat it all with the oil. Cover the bowl and set aside to rise for at least 3 hours.
3. Lift the dough onto a lightly floured work surface. Punch the dough down and flatten into a large round. Sprinkle the baking powder in the center of the circle, bringing the edges up towards the center. Firmly press the edges together, then knead the dough for a further 5 minutes. Divide the dough into 12 equal portions and roll into balls. Cover with a damp cloth to prevent them from drying out.
4. To make the filling, heat a wok over high heat, add the oil and swirl to coat. Add the pork and cook for 30 seconds, stirring constantly. Add the oyster sauce, sugar, rice wine, sesame oil and soy sauce and stir-fry for 1-2 minutes. Transfer the mixture to a bowl to cool.
5. Take each ball of dough and press it onto a lightly floured surface to form a circle 12 cm (4 1/2 inches) in diameter. Place a heaped tablespoon of the filling in the center of each dough circle, then bring the edges up to the center. Press the edges firmly together. Sit each bun on a 5 cm (2 inch) square of baking paper.
6. Place six pork buns on each layer of a double steamer (our steamer is smaller so we only had 3 on each layer) and cover with a lid. Sit the steamer over a wok or saucepan of boiling water (the steamer shouldn't touch the water) and steam for 15 minutes.
Serve warm and enjoy! 🙂
If you like this blog, please share and follow: