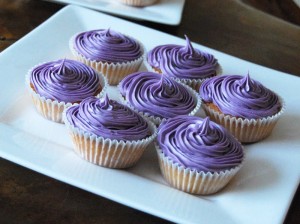 It was a family friend's 60th birthday this week and as we weren't seeing them until today I decided it would be nice to do some celebratory cupcakes! Cakes – be they cupcakes, layer cakes, basic sponge cakes, any cakes! – are so simple and quick to make that even if you have some unexpected guests, you can whip up a batch of cupcakes in pretty much no time at all 🙂
I always use a basic cake batter recipe for both sponge/layer cakes and cupcakes/fairy cakes. It's a simple one to remember, just think "six, six, six, three". In fact my cousin made a little song about it – "six, six, six, three, makes a nice cake for you and me!" hehe. The lowest ingredient is always the eggs.
Sometimes I flavour the cakes but the basic batter mix always stays the same. If you want to flavour the cakes with cocoa powder or another dry ingredient then you could add a touch more butter, but it isn't really needed.
So today, I made some simple vanilla cupcakes. I cheated with the frosting, I'll admit! We had run out of icing sugar but I had a tub of Betty Crocker "ready to spread" rich and creamy vanilla icing in the cupboard (I try to keep one in just in case of baking emergencies!). I dyed the frosting a lovely purple colour using a colour gel, but I'll talk about how amazing those gels are in a different post.
Anyway, to the cakes!
Makes: 1 round cake, or 18-24 cupcakes (depending on if you use medium or large eggs)
Perparation time: 8 minutes
Baking time: 15-20 minutes
Ingredients:
6 oz butter (softened)
6 oz sugar
6 oz self-raising flour
3 eggs (medium or large), beaten
1 tsp vanilla extract (optional)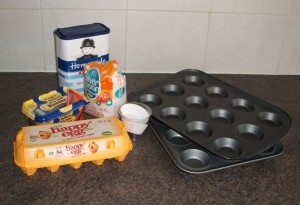 1. Preheat your oven to 180°C (mine is fan assisted so you may wish to adjust this temperature accordingly).
2. Cream the butter and sugar together until smooth. I do all of my mixing by hand but you could use an electric kitchen aid if you prefer.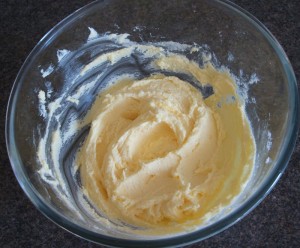 3. Add the beaten eggs to the creamed mixture a little at a time and mix thoroughly as you go. Do not worry if it looks like it's curdled! It hasn't 🙂 It's at this stage where you can add whatever flavouring you like. I added some Madagascan vanilla extract to enhance the flavour, but you really don't need to add anything because they taste good anyway 🙂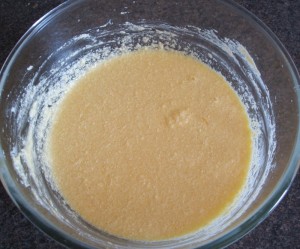 4. Sift in the flour and fold into the wet ingredients until you have a silky smooth cake batter.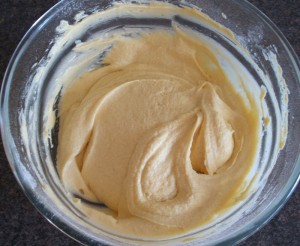 5. Divide the batter into cake cases (or pour it all into one large round cake tin if you're making a sponge cake, or layer cake). Remember that cake trays move! Don't worry about reaching over across the tin to fill up the cake sections on the far side, just spin the tray around so they are closer to you 🙂 I know, sounds simple but it's always the simple things that catch everyone out…me included!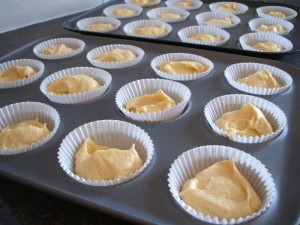 6. Bake in the oven for 15-20 minutes. I check on mine after 15 minutes, if a skewer comes out clean then they're done, if not then put them back in for a few more minutes.
7. Leave the cupcakes on a cooling rack. I have to hide my cooling rack now because Indiana, one of my cats, recently discovered that he likes cake and the last batch of cupcakes I made he decided to hunt down and chew to pieces while I wasn't looking!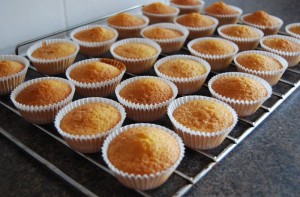 8. Cover with frosting, butter cream or icing, or just dust with icing sugar for a simple treat 🙂 I used a piping bag to give a simple swirl pattern instead of a knife to spread the frosting, as they were for a special birthday, and then put a candle in one of them when the birthday guest arrived!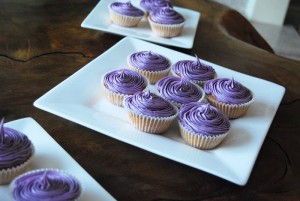 9. You can store any remaining cupcakes (a rare phenomenon in my house!) in a storage tin for a few days – clean Quality Street, etc tins or biscuit tins are great for this!
(these are the same batch of cakes but different lighting in different rooms has meant slightly different colour frosting in the photos!)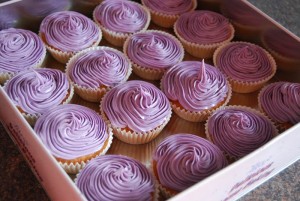 If you like this blog, please share and follow: