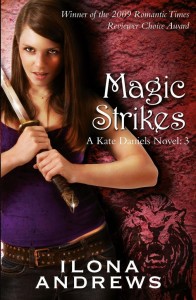 Magic Strikes
by Ilona Andrews
Genre: Dark fantasy
Published: March 2009
Amazon
Book Depository
Back of the book blurb:
When magic strikes and Atlanta goes to pieces, it's a job for Kate Daniels…
Drafted into working for the Order of Merciful Aid, mercenary Kate Daniels has more paranormal problems than she knows what to do with these days. And in Atlanta, where magic comes and goes like the tide, that's saying a lot.
But when Kate's werewolf friend Derek is discovered nearly dead, she finds herself with a personal stake and a while new level of problem. As her investigations lead her to the Midnight Games – the invitation-only, no-holds-barred, ultimate preternatural fighting tournament – she uncovers a dark plot that may forever alter the face of Atlanta's shapeshifting community…
My review:
I only discovered Ilona Andrews' Kate Daniels series about a year ago but they hooked me fast. This is book three in the series and is just as strong as the first two.
The world that Kate Daniels lives in has enough "normal" every day markers for you to be able to picture what is being talked about (streets in Atlanta, etc). But the alterations that have come about due to the magic and tech waves are a fantastic change and they draw you even deeper into the story with each revelation. If you haven't read any of this series, then definitely start with book one, Magic Bites, so that you can fully emerge yourself in this fantastically interesting world that Ilona Andrews has created.
This book focuses on the relationship between Kate Daniels and the shapeshifters, even though that is seemingly a secondary storyline to the goings on in the Midnight Games. I love the way that the story didn't get overrun with fight scenes, even in a book all about fights. The descriptions and narrative held strong and I literally couldn't put the book down until I finished it!
The fight scenes were so well detailed that you knew exactly where and what everyone was doing and the overall plot moved with perfect pace – nothing dragged and nothing felt too rushed either. Her relationship with Curran also comes into play in this book and his character is one of my absolute favourites! The two of them together in any situation is just such an interesting read – sometimes fun, sometimes serious, but always enjoyable to learn more about. Just as the world itself, and their roles in it, is so fascinating to delve into.
I enjoy the way there are light hearted moments to mix in with the serious elements, and each character is so very individual that you feel personal attachments to each of them in a different way. Kate Daniels is a very likable character and her actions, and motivations, are not only interesting to read but they draw you deeper into the story with her.
Overall, this book was a fantastic read; an excellent addition to an already strong series and I cannot wait to read the next one 🙂
Rating: 5/5
I purchased this book with my own money, and received no compensation for my honest review.
I am a Book Depository and Amazon affiliate, and I receive a small commission if you use my link.
If you like this blog, please share and follow: