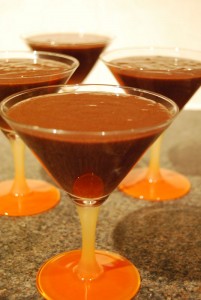 A while ago I came across a Nigella Lawson recipe for Eggless Dark Chocolate Mousse, tried out by US Masala. They looked delicious but for me the ultimate chocolate mousse has to have something extra… orange!
So I amended the recipe to give me a chocolate orange fix, but the great thing is that you could add anything you like in there – try some kahlua for a coffee flavour, or for a non-alcholic route try coffee flavouring, or even add more vanilla extract, or mint flavouring…whatever added extra that you like 🙂
For me though, it will always be orange in chocolate!
Makes: 4-6 (I got 5 portions, in small cocktail glasses, and I think they were the perfect size)
Preparation time: 5 minutes
Cooking time: 10 minutes
Chilling time: 1-2 hours
Ingredients:
270 g (3 cups) mini marshmallows
50 g (2 oz) unsalted butter
255 g (9 oz) dark chocolate drops (or a bar broken into pieces)
60 ml (1/4 cup) hot water
250 ml (1 cup) whipping cream
1 tsp vanilla extract
2 tbsp Cointreau (Grand Marnier would also work well, or 1 tsp of orange flavouring)
1. Put the butter, water, marshmallows and chocolate drops into a saucepan and heat until melted together. Stir every now and then to prevent sticking and to stop the chocolate from burning as it melts.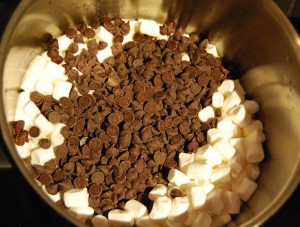 2. When thoroughly melted, set aside to cool to room temperature. I transferred the mixture to a bowl to help it cool faster.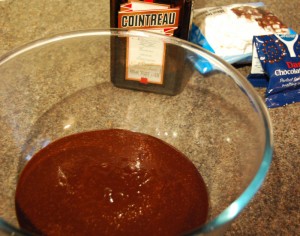 3. Whip the cream with the vanilla extract until thick.
4. Add the Cointreau (or any other flavouring that you like!) to the chocolate mixture and stir well. Now fold in the cream until you have a smooth consistency.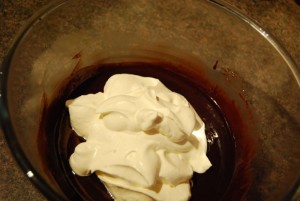 5. Pour, or spoon (I used a ladle!), the mixture into glasses or small bowls and put in the refrigerator to chill for 1-2 hours, or until you want to eat them! I left mine for 1.5hrs, while we cooked and ate dinner 🙂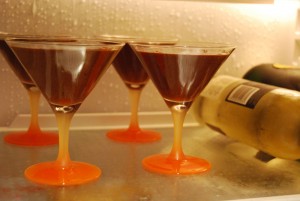 6. Eat and enjoy! I decorated the top of each mousse with a few mini marshmallows and chocolate drops. You could use a couple of coffee beans, or a sprig of mint, or even some orange segments for different looks depending on what you added to the mousse!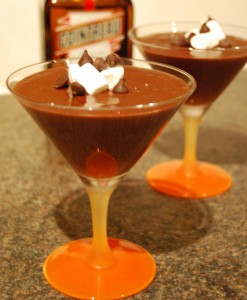 This was one of the best chocolate desserts that I've tasted! So easy to make and the texture and consistency is just perfect. The marshmallows add a nice sweetness so this isn't a bitter dish at all, even with the dark chocolate in there. I will definitely be making this again!
This will be my blog post for the Hearth And Soul Blog Hop, a recipe hop that happens every Tuesday 🙂
If you like this blog, please share and follow: