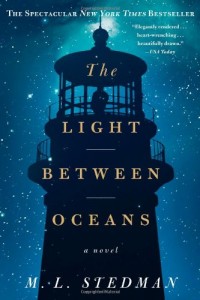 The Light Between Oceans
by M. L. Stedman
Published: April 2013
Amazon
Book Depository
Back of the book blurb:
After four harrowing years on the Western Front, Tom Sherbourne returns to Australia and takes a job as the lighthouse keeper on Janus Rock, nearly half a day's journey from the coast. To this isolated island, where the supply boat comes once a season, Tom brings a young, bold, and loving wife, Isabel. Years later, after two miscarriages and one stillbirth, the grieving Isabel hears a baby's cries on the wind. A boat has washed up onshore carrying a dead man and a living baby.
Tom, who keeps meticulous records and whose moral principles have withstood a horrific war, wants to report the man and infant immediately. But Isabel insists the baby is a "gift from God," and against Tom's judgment, they claim her as their own and name her Lucy. When she is two, Tom and Isabel return to the mainland and are reminded that there are other people in the world. Their choice has devastated one of them.
My review:
I was intrigued by this book as soon as I read the blurb. It sounded as though it would tackle some hard choices and also the fallout that those choices can cause. I wasn't disappointed.
The author has a wonderful writing style (for the most part) – I felt drawn into the story straight away, but the large chunks of "this is how a lighthouse works" did jar a little and I skipped a few. The period and location of the story were new to me, but it didn't feel like an unknown. Stedman wrote descriptions beautifully and kept the pacing just right to move the reader along.
The story itself felt as though it is something that could have happened, even though I know this is a book of fiction. We meet Tom Sherbourne, who was happy spending his post-war years alone on a lighthouse until he meets Isabel – a vibrant and energetic girl who Tom falls in love with very quickly. Their story soon becomes one of sadness, and then deceit. But I loved that the story was told "as is" without trying to make the reader feel one way or another. You're left to your own devices to decide how you feel about each decision, action or inaction. And it really makes you think "what would I do if…" a lot of times through the book.
I was anticipating a very sad ending filled with a lot of death – thankfully that didn't happen – and I have to admit I ended up hating Isabel. But that hate also held sadness and some compassion (though not a lot, I must admit) because of what had driven her to the decisions she made. The book made me question if someone's actions can or should be forgiven because of what drove them to that point, and to also think about the loved ones surrounding them who have to deal with the fallout by association.
This is a book which will keep you thinking long after you've finished. At first I wasn't sure if I liked, or agreed, with the way things progressed and then ended. But it stayed in my mind for a few days, with me thinking of other endings or how I thought people would react in different situations. Which to me is a great book – something that makes you think about not only the book itself, but about the world you live in and the way people interact.
Rating: 4/5
I purchased this book with my own money, and received no compensation for my honest review.
I am a Book Depository and Amazon affiliate, and I receive a small commission if you use my link.
If you like this blog, please share and follow: