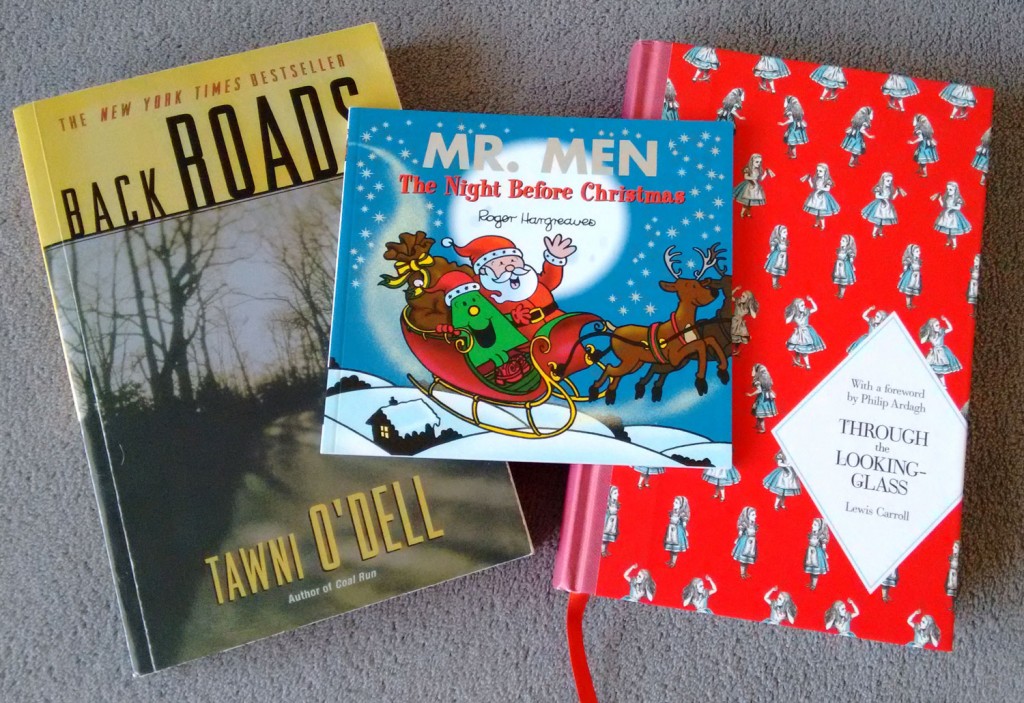 Where did September go? I feel like I've blinked and it's suddenly over. But that does mean Halloween is getting closer – yay!
I'm looking forward to curling up with some hot chocolate and working my way through my TBR pile. I've tried to be good and not buy any new books until I've at least read some from the pile, but these were free downloads, or gifted. So basically, I found a loophole to my own rule!
Ebooks
Survival of the Christmas Spirit by Aimee Horton

"Cooking for nineteen people will be a cinch!" Ever-optimistic Dottie Harris is preparing for the biggest and best Christmas celebration ever, and nothing—not even unexpected guests or running out of gin—will get her down.

But as always, things don't run smoothly for Dottie, and it's not long before her two energetic children, hapless husband and a nasty stomach bug wreak havoc on her carefully planned spreadsheets.

Can Dottie throw the perfect family Christmas (without so much as a swig of gin to help her through) or will preparing for the festivities get the best of her? One thing's for sure: This will be a Christmas to remember!
Amazon | Book Depository
Survival of the Christmas Spirit is currently FREE as an Amazon Kindle download! My friend writes these Dottie Harris books and this is a standalone holiday special.
Genesis (The Legend of Glory Book 3) by Devin O'Branagan

In this paranormal thriller, eighteen-year-old Glory Templeton has returned from a time travel event pregnant with a child named Genesis whose DNA is predicted to save the world from genocide. However, evil forces of both natural and supernatural origins want Glory's baby for their own purposes. Meanwhile, Genesis' father, Zane, struggles to find his way back to Glory after nearly two centuries of living in darkness. Angels, witches, vampires, and demons come together to do battle, and the human race is the prize. A moving tale of love, courage, and fighting the good fight against evil.
Amazon
Genesis was a free download. I haven't read the first two books in the series, but the Amazon page says it works as a stand alone novel so I'll see how that goes.
Paper books
Back Roads by Tawni O'Dell

Harley Altmyer should be in college drinking Rolling Rock and chasing girls. He should be freed from his closed-minded, stricken coal town, with its lack of jobs and no sense of humor. Instead, he's constantly reminded of just how messed up his life is.

With his mother in jail for killing his abusive father, Harley is an orphan with the responsibilities of an adult and the fiery, aggressive libido of a teenager. Just nineteen years old, he's marooned in the Pennsylvania backwoods caring for his three younger sisters, whose feelings about him range from stifling dependence to loathing. And once he develops an obsession with the sexy, melancholic mother of two living down the road, those Victoria's Secret catalogs just won't do the trick anymore. He wants Callie Mercer so badly he fears he will explode. But it's the family secrets, the lies, and the unspoken truths that light the fuse and erupt into a series of staggering surprises, leaving what's left of his family in tatters. Through every ordeal, the unforgettable Harley could never know that his endearing humor, his love for his sisters, and his bumbling heroics would redeem them all.
Amazon | Book Depository
You might have heard of this book before – it was part of Oprah's Book Club in 2000. I was in England back then and that show isn't big over there, so I hadn't heard of Back Roads until recently. So how did I hear about it? Well, it's written by my husband's cousin! After I found out we had an author in the family, I emailed her right away and she very kindly sent me an autographed copy. It sounds so intriguing, I can't wait to dive in.
Through The Looking Glass by Lewis Carroll

In 1872, in reaction to the universal acclaim *Alice's Adventures in Wonderland* received, Dodgson (aka Lewis Carroll) published this sequel. Nothing is quite what it seems once Alice journeys through the looking-glass, and Dodgson's wit is infectious as he explores concepts of mirror imagery, time running backward, and strategies of chess-all wrapped up in the exploits of a spirited young girl who parries with the Red Queen, Tweedledee and Tweedledum, and other unlikely characters. In many ways, this sequel has had an even greater impact on today's pop culture than the first book.
Amazon | Book Depository
Currently FREE as an Amazon Kindle download! Through The Looking Glass is one of my Mom's favourite books. She read it to me when I was little, but unfortunately I don't remember much about it. So she sent me my own copy and I can't wait to read it!
Mr. Men The Night Before Christmas by Roger Hargreaves

It was the night before Christmas, and all through the land, not a Mr. Man was stirring . . . not even Little Miss Chatterbox! Join the residents of Mr. Men Land on Christmas Eve as they prepare for Santa Claus and Mr. Christmas to arrive. But Little Miss Late (in typical fashion) didn't send her letter to Santa until just that morning! Will he visit her anyway?
Amazon | Book Depository
Hehehe! This is also from my Mom. The Mr. Men books were a big part of my childhood, and she's kept the collection going all these years by buying random ones as a "joke" gift if she sees something I don't have. I'm not going to lie, I'm looking forward to reading this lol!
So that's my TBR round up this week! I'll be taking part in Stacking The Shelves, and also The Sunday Post. Check out some of the other posts to find great reads 🙂
I received no compensation for my honest opinion of these books.
I am a Book Depository and Amazon affiliate, and I receive a small commission if you use my link.
If you like this blog, please share and follow: