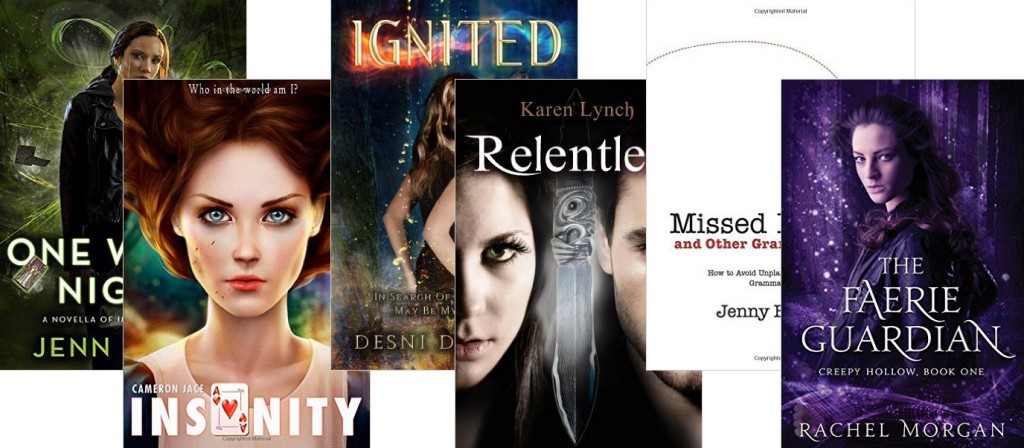 Life has been so busy recently, which turns into hardly any books being read. But definitely not a lack of books being bought. Thanks to the Stacking The Shelves blog party I found some FREE ebooks that sounded interesting – and being free I couldn't resist one-clicking them.
Ebooks
One Wilde Night by Jenn Stark

Tarot-reading artifact hunter Sara Wilde has had her share of tough assignments, but this one just might take the cake. When her newest client hires her to steal a fertility idol from an Amazonian sex-and-death cult, she finds herself south of the equator and shoulder deep in true believers, while Rio de Janeiro gears up for the closing celebrations of Carnival.

Stealing the idol is one thing, however. Keeping it is another.

The arcane black market has drawn a host of cutthroat operatives and Sara's now in their sights. In a race across one of the most colorful cities in South America on its most famed night of the year, Sara must navigate cunning enemies, backstabbing allies, a fifty-foot wedding cake float and a new, sensually mysterious contact who may be friend or foe… and whose name she'll never learn if she doesn't make it to dawn alive.

No matter what the cards predict, it's going to be One Wilde Night.
Amazon
I've already started reading One Wilde Night and I'm enjoying it so far.
The Faerie Guardian by Rachel Morgan

Enter a hidden world of magic, mystery, action and romance …
Seventeen-year-old Violet Fairdale has one job: protect humans from dangerous magical creatures. It's a job she's good at—until her latest assignment, a cute human guy who can somehow see through her faerie glamour, follows her into the fae realm. Now she's broken Guild law and risked her future as the top graduate of her class.

The last thing Vi wants to do is spend any more time with the guy who got her into this mess, but the Guild requires that she return Nate to his home and make him forget everything he's discovered of the fae realm. Easy, right? Not when you factor in evil faeries, long-lost family members, and inconvenient feelings of the romantic kind. Vi is about to find herself tangled up in a dangerous plot—and it'll take all her training to get out alive.
Amazon
Insanity by Cameron Jace

After accidentally killing everyone in her class, Alice Wonder becomes a patient in the Radcliffe Lunatic Asylum. No one doubts her insanity. All but a hookah-smoking professor named Carter Pillar who believes he can prove her sanity by decoding Lewis Carroll's paintings, photographs, and finding Wonderland's real whereabouts.

Professor Caterpillar persuades the asylum that Alice can save lives and catch the Wonderland Monsters now reincarnated in modern day criminals. In order to do so, Alice leads a double life: an Oxford university student by day, a mad girl in an asylum by night. The line between sanity and insanity thins when she meets Jack Diamond, an arrogant college student who believes that nonsense is an actual science.
Amazon
Insanity hooked me at "accidentally killing everyone in her class…" lol what a great line! Plus it has an Alice in Wonderland theme, and an awesome cover. Hopefully it will live up to my expectations.
Relentless by Karen Lynch

Sara Grey's world shattered ten years ago when her father was brutally murdered. Now at seventeen, she is still haunted by memories of that day and driven by the need to understand why it happened. She lives a life full of secrets and her family and friends have no idea of the supernatural world she is immersed in or of Sara's own very powerful gift.

In her quest for answers about her father's death, Sara takes risks that expose her and her friends to danger and puts herself into the sights of a sadistic vampire. On the same fateful night she meets Nikolas, a warrior who turns Sara's world upside down and is determined to protect her even if it's the last thing she wants.

Sara's life starts to spin out of control as she is hunted by an obsessed vampire, learns that her friends have secrets of their own and reels from the truth about her own ancestry. Sara has always been fiercely independent but in order to survive now she must open herself to others, to reveal her deepest secrets. And she must learn to trust the one person capable of breaking down the walls around her.
Amazon | Book Depository
Ignited by Desni Dantone

Seventeen year old Kris Young is on the run from a throng of superhuman golden-eyed freaks hell-bent on seeing her dead, and she doesn't know why. Good thing she has her guardian angel to protect her…sort of.

Kris is aided by Nathan, the mysterious man that ends up being anything but angelic when he rescues her for the fourth time in fourteen years. Even if the handsome hero illusion is shattered by his harsh treatment of her, he knows how to fight this strange enemy and is determined to keep her safe at all costs.
As the body count rises in their wake, Nathan introduces Kris to a world in which not everyone is human and the battle lines between good and evil are clearly drawn. Kris's piece in the puzzle is something neither is aware of and, as they uncover the truth, neither is prepared for what they find. Overcoming twists and revelations that shatter both of their lives, they discover that nothing is as it seems and nothing, least of all their hearts, are safe.
Amazon
Paper books
Missed Periods and Other Grammar Scares by Jenny Baranick

Grammar has finally let its hair down! Unlike uptight grammar books that overwhelm us with every single grammar rule, Missed Periods and Other Grammar Scares is like a bikini: it's fun, flirty, and covers only the most important bits. Its lessons, which are 100 percent free of complicated grammar jargon, have been carefully selected to include today's most common, noticeable errors—the ones that confuse our readers or make them wonder if we are, in fact, smarter than a fifth grader. What is the proper use of an apostrophe? When should an ellipsis be used instead of an em dash? Why do we capitalize President Obama but not "the president"? And why is that question mark placed outside of the end quote?

Author Jenny Baranick is an English professor whose students can't believe she's actually that into grammar. Upon experiencing the joys of grammar at an early age, raising grammar awareness became Jenny's raison d'être. By spreading her remarkably user-friendly and hilarious approach to grammar, she hopes everyone will experience the satisfaction of a properly placed comma, a precisely used semicolon, and a correctly deployed en dash.

Missed Periods and Other Grammar Scares shows grammar as it's never been seen before: uncomplicated, laugh-out-loud funny, and, dare we say, a little risqué.
Amazon | Book Depository
I can't wait to start reading Missed Periods and Other Grammar Scares! It's been on my list for a long time, and was finally chosen for book club this month.
That's my TBR round up this week! I'll be taking part in Stacking The Shelves, and The Sunday Post – check out some of the other posts to find great reads 🙂
I purchased these books with my own money, and received no compensation for my honest opinion.
I am a Book Depository and Amazon affiliate, and I receive a small commission if you use my link.
If you like this blog, please share and follow: