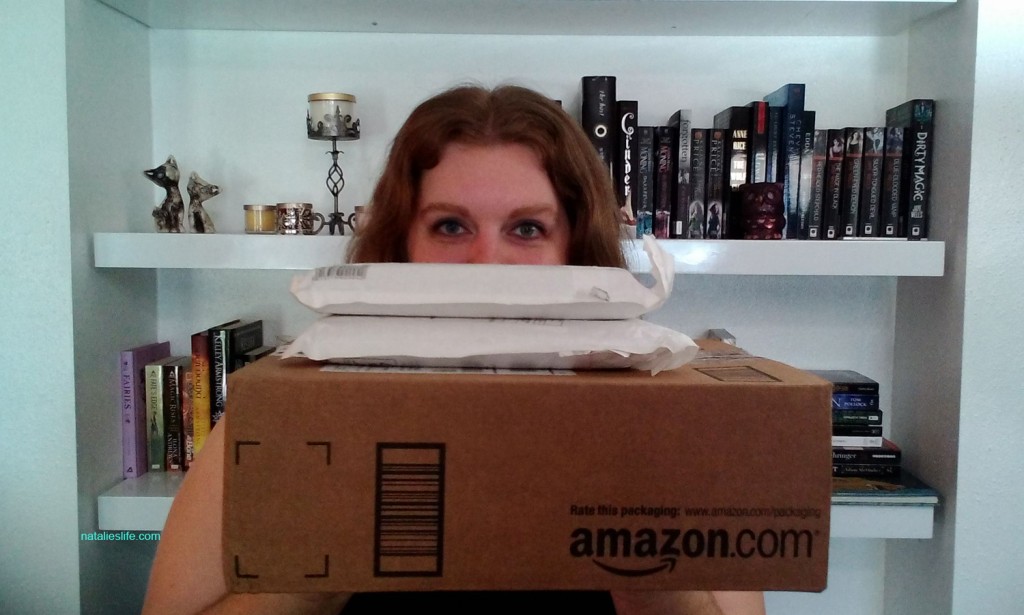 So my great Black Friday book buys took forever (ok, it was only 3 weeks but it felt like forever) to get here! But now I can hug them, and love them, and curl up to read them complete with a hot chocolate…in 75F Florida heat. Seriously Florida, did you not get the memo that it's DECEMBER lol!
I've also made a video about this book haul, so feel free to check that out 🙂
I got three books from Amazon, and two from Book Depository in the Black Friday sales. The latter were slightly better discounts, but they took the longest to arrive. I think if you're in England then Book Depository purchases would ship much quicker than they do to those of us outside of the UK.
The Devil You Know by Mike Carey

Felix Castor is a freelance exorcist, and London is his stamping ground. It may seem like a good ghostbuster can charge what he likes and enjoy a hell of a lifestyle–but there's a risk: Sooner or later he's going to take on a spirit that's too strong for him. While trying to back out of this ill-conceived career, Castor accepts a seemingly simple ghost-hunting case at a museum in the shadowy heart of London–just to pay the bills, you understand. But what should have been a perfectly straightforward exorcism is rapidly turning into the Who Can Kill Castor First Show, with demons and ghosts all keen to claim the big prize. That's OK: Castor knows how to deal with the dead. It's the living who piss him off…
I read another book by Mike Carey (written as M R Carey) called The Girl With All The Gifts, and it was so well written I put his other books on my wishlist right away! I've only just got around to buying this one though, but I'm looking forward to reading it.
Red Queen by Victoria Aveyard

Mare Barrow's world is divided by blood–those with common, Red blood serve the Silver- blooded elite, who are gifted with superhuman abilities. Mare is a Red, scraping by as a thief in a poor, rural village, until a twist of fate throws her in front of the Silver court. Before the king, princes, and all the nobles, she discovers she has an ability of her own.

To cover up this impossibility, the king forces her to play the role of a lost Silver princess and betroths her to one of his own sons. As Mare is drawn further into the Silver world, she risks everything and uses her new position to help the Scarlet Guard–a growing Red rebellion–even as her heart tugs her in an impossible direction. One wrong move can lead to her death, but in the dangerous game she plays, the only certainty is betrayal.
Red Queen has been doing the rounds on book blogs and it sounds really interesting!
Ink And Bone by Rachel Caine

Ruthless and supremely powerful, the Great Library is now a presence in every major city, governing the flow of knowledge to the masses. Alchemy allows the Library to deliver the content of the greatest works of history instantly—but the personal ownership of books is expressly forbidden.

Jess Brightwell believes in the value of the Library, but the majority of his knowledge comes from illegal books obtained by his family, who are involved in the thriving black market. Jess has been sent to be his family's spy, but his loyalties are tested in the final months of his training to enter the Library's service.

When he inadvertently commits heresy by creating a device that could change the world, Jess discovers that those who control the Great Library believe that knowledge is more valuable than any human life—and soon both heretics and books will burn.…
I've read other books by Rachel Caine and this sounds great! The cover is also beautiful – it's the UK cover, so if you're in the US you might want to order from Book Depository, or find another way for a UK copy – the US cover isn't as pretty, in my opinion.
Welcome To Night Vale by Joseph Fink and Jeffrey Cranor

Located in a nameless desert somewhere in the great American Southwest, Night Vale is a small town where ghosts, angels, aliens, and government conspiracies are all commonplace parts of everyday life. It is here that the lives of two women, with two mysteries, will converge.

Nineteen-year-old Night Vale pawn shop owner Jackie Fierro is given a paper marked "KING CITY" by a mysterious man in a tan jacket holding a deer skin suitcase. Everything about him and his paper unsettles her, especially the fact that she can't seem to get the paper to leave her hand, and that no one who meets this man can remember anything about him. Jackie is determined to uncover the mystery of King City and the man in the tan jacket before she herself unravels.

Night Vale PTA treasurer Diane Crayton's son, Josh, is moody and also a shape shifter. And lately Diane's started to see her son's father everywhere she goes, looking the same as the day he left years earlier, when they were both teenagers. Josh, looking different every time Diane sees him, shows a stronger and stronger interest in his estranged father, leading to a disaster Diane can see coming, even as she is helpless to prevent it.

Diane's search to reconnect with her son and Jackie's search for her former routine life collide as they find themselves coming back to two words: "KING CITY". It is King City that holds the key to both of their mysteries, and their futures…if they can ever find it.
Welcome To Night Vale is also a podcast that I enjoy – if you haven't heard it and you like podcasts you should definitely check it out. It's a lot of fun!
The Wicked And The Divine by Kieron Gillen and Jamie McKelvie

Every ninety years, twelve gods incarnate as humans.
They are loved.
They are hated.
In two years, they are dead.

The team behind critically thermonuclear floor-fillers Young Avengers and Phonogram reunite to start a new, ongoing, superhero fantasy with a beautiful, oversized issue. Welcome to The Wicked + The Divine, where gods are the ultimate pop stars and pop stars are the ultimate gods. But remember: just because you're immortal, doesn't mean you're going to live forever.
This is actually my first ever graphic novel purchase! If you're a noob like me, I've been told this is a great one for beginners to delve into. It definitely sounds intriguing, and the graphics are beautiful.
With Christmas and New Year coming up (how did that happen?!) I'm hoping to get a lot of reading done. My TBR shelf is already overflowing and I need to make some space for more books…and more…and more… *maniacal laughter*
Ahem.
As usual I'll be taking part in Stacking The Shelves, and The Sunday Post – check out some of the other posts to find great reads 🙂
I purchased these books with my own money, and received no compensation for my honest review.
I am a Book Depository and Amazon affiliate, and I receive a small commission if you use my link.
If you like this blog, please share and follow: