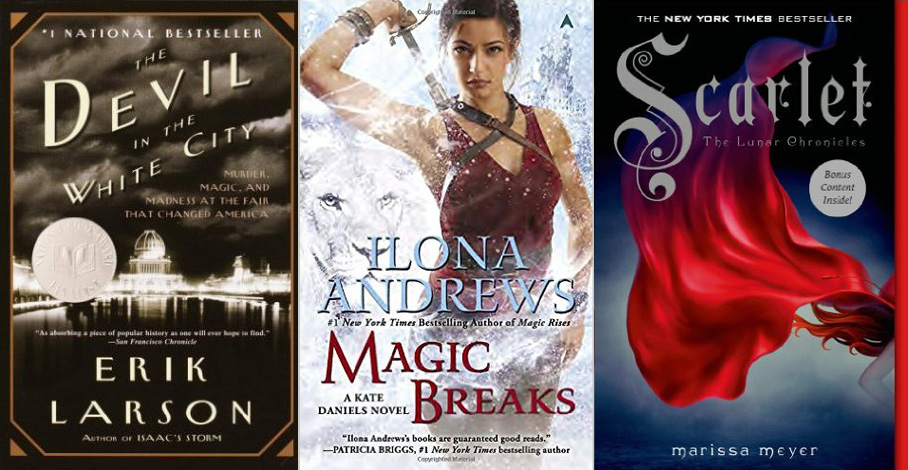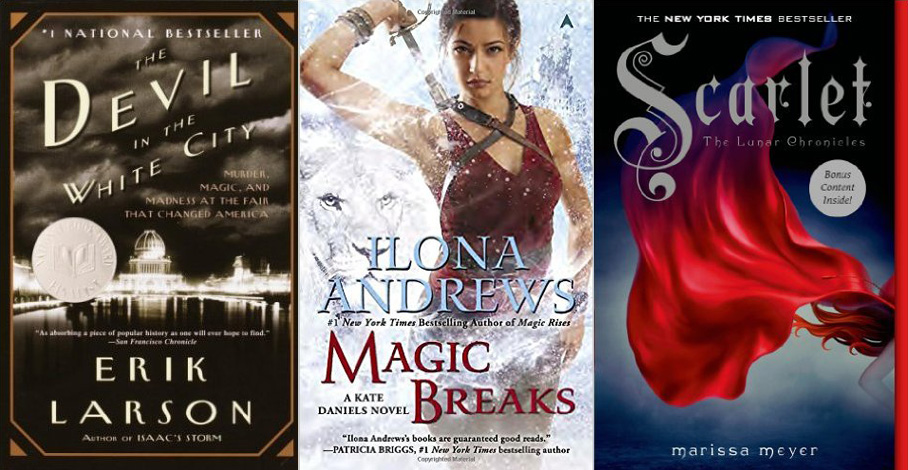 I'm taking part in NaNoWriMo this year. For those of you who don't know what that is, it's an annual writing challenge (National Novel Writing Month) where you write 50k words of a novel/novella/whatever during the month of November. I've taken part every so often since 2005 – some years winning, some years failing miserably!
This year I'm a little behind, but on track to win. I hope. What I forgot though is that winning NaNoWriMo means you get to have no life! Hence the lack of blog posts. Sorry! I've managed my time a little better now – no forward planning on my part – and now have some blogging time as well as furiously writing NaNoWriMo catch up words.
Also, I made my first ever YouTube video! Well, the first one with me in it and not just the dog or a bunch of cute kittens hehe. It's a BookTube video of my November book haul, let me know what you think!
On to the books themselves. It's been a slow book buying month, but I'm really looking forward to reading these three.
The Devil In The White City by Erik Larson

Erik Larson—author of #1 bestseller In the Garden of Beasts—intertwines the true tale of the 1893 World's Fair and the cunning serial killer who used the fair to lure his victims to their death. Combining meticulous research with nail-biting storytelling, Erik Larson has crafted a narrative with all the wonder of newly discovered history and the thrills of the best fiction.
The Devil In The White City is the book for Book Club this month. I'm really intrigued and can't wait to read it!
Magic Breaks (Kate Daniels book 7) by Ilona Andrews

As the mate of the Beast Lord, Curran, former mercenary Kate Daniels has more responsibilities than it seems possible to juggle. Not only is she still struggling to keep her investigative business afloat, but she must now deal with the affairs of the Pack, including preparing her people for attack from Roland, a cruel, ancient being with godlike powers.

As Roland's long shadow looms ever nearer, Kate is called to attend a gathering of leaders from Atlanta's supernatural factions. When one of the Masters of the Dead is found murdered by a shapeshifter, Kate is given less than twenty-four hours to hunt down the killer. And this time, if she fails, she'll find herself embroiled in a war that could destroy everything she holds dear…
Amazon | Book Depository
I love Ilona Andrews work, and the Kate Daniels series is just fantastic – the world building alone is amazing. I'm a bit behind on the series so I'm looking forward to catching up with this one.
Scarlet (Lunar Chronicles book 2) by Marissa Meyer

Cinder is back and trying to break out of prison―even though she'll be the Commonwealth's most wanted fugitive if she does―in this second installment from Marissa Meyer.

Halfway around the world, Scarlet Benoit's grandmother is missing. It turns out there are many things Scarlet doesn't know about her grandmother, or the grave danger she has lived in her whole life. When Scarlet encounters Wolf, a street fighter who may have information as to her grandmother's whereabouts, she is loath to trust this stranger, but is inexplicably drawn to him, and he to her. As Scarlet and Wolf unravel one mystery, they encounter another when they meet Cinder. Now, all of them must stay one step ahead of the vicious Lunar Queen Levana.
Amazon | Book Depository
I read Cinder (book 1) a while ago and had to take a break from the series – it was good, but frustrating. I really do want to read more though, so I'm giving Scarlet a go and hopefully the frustrations from book one have been taken out of book two.
So that's my round up this week! As usual I'll be taking part in Stacking The Shelves, and The Sunday Post – check out some of the other posts to find great reads 🙂
I purchased these books with my own money, and received no compensation for my honest opinion.
I am a Book Depository and Amazon affiliate, and I receive a small commission if you use my link.
If you like this blog, please share and follow: