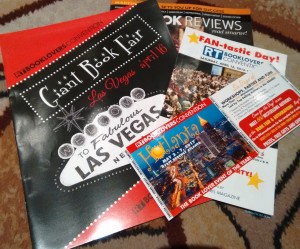 So I did a thing. I bought a spur of the moment day ticket to the RT Booklovers Convention! Eeeee! I was excited but also nervous about going on my own. Would it be fun by myself? Would I get to do everything I wanted? Would I feel left out?
The answers were yes, yes and definitely not! It was so much fun! My ticket gave me entrance to the Giant Book Fair, Berkley authors event, Random House "shop til you drop" event, and the FAN-tastic Day party. There were queues all day, but they passed by quickly because everyone was so friendly – I chatted to people in the queue with me, and found some new friends (local and long distance) 🙂
I made a short vlog through the day to show how great – and active – everything was:
The Giant Book Fair was so busy, but really well organised. I got to meet a lot of authors – some I already knew, some were new to me. And I bought a few *ahem*14*ahem* books, all signed by the authors. Most of the really well known authors had virtual queues, where you get a ticket number to hold a place in the queue and come back when your number is called. Which worked great – I was number 384 to see Nalini Singh.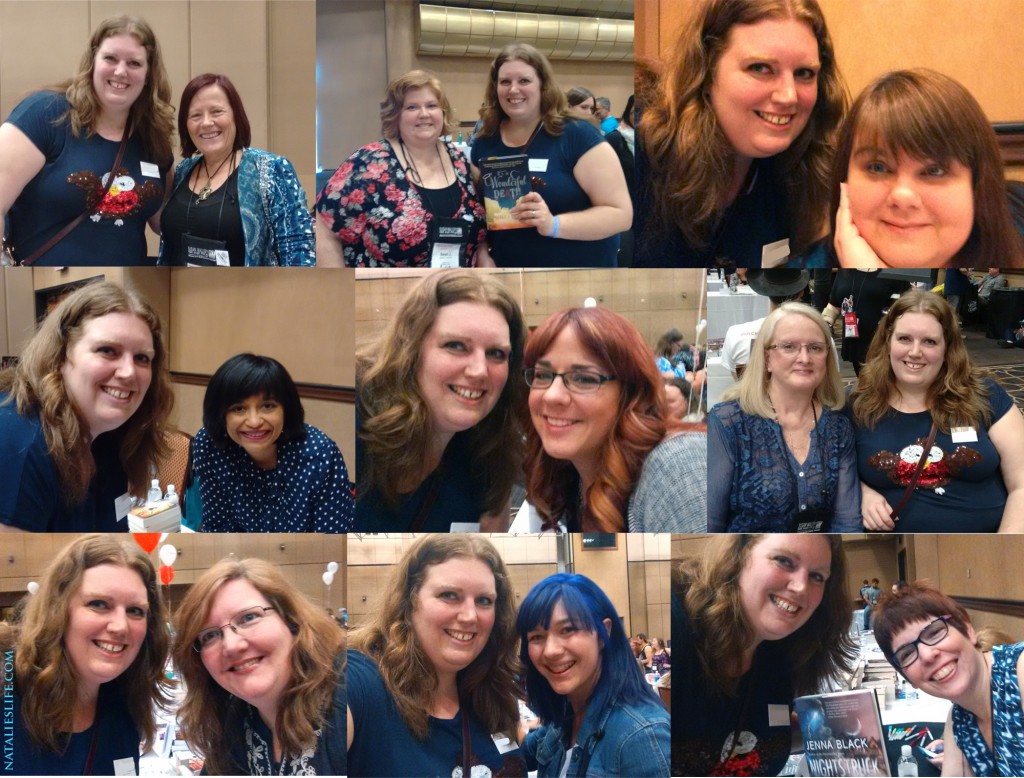 I left the fair a little bit early, to give me time to find the next event (Berkley authors), and I'm glad I did because there was already a queue forming for that too! We were all in the queue for about 2 hours before the doors opened and… the event was a little disappointing. The organisers had randomly put the books into goody bags for us all, so you didn't know what genre you'd be getting. They had a handful of other books on a table at the back of the hall but the first few people just grabbed them all before the rest of us got chance to look.
We asked if we could look in the left over bags (about 50 of them just lying on the side table) to swap books and were told"no". So my random books in my bag were three historical romance/bodice ripper romance novels, which aren't my genre at all :/ Oh well.
So I left that event almost right away and made my way to the Random House "shop til you drop" event, which was described as being lots of free books. I waited in the queue for just over two hours – which turned out to be a great use of time because we all did swaps of our random Berkley books while we waited, and I managed to get a more contemporary romance in the mix 🙂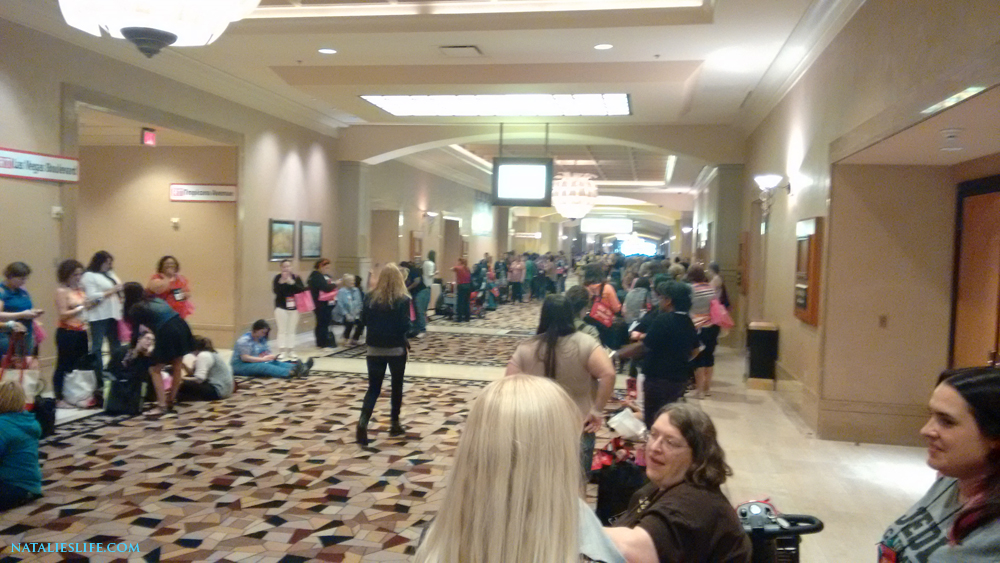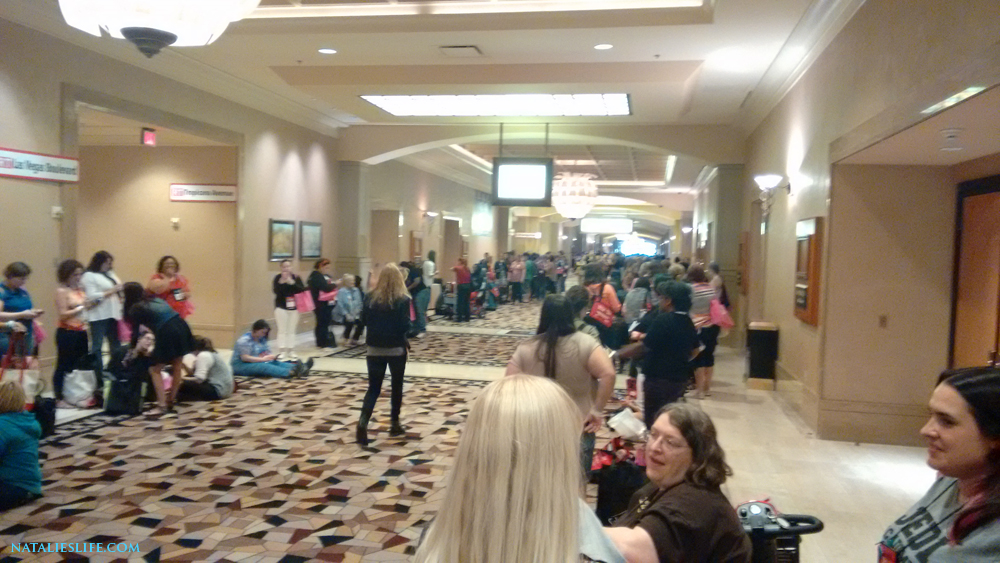 Just before we were let into the Random House event the staff told us we'd all only be allowed one book each – not one book per author, just one book per person! Which is nice to get a free book, but was really disappointing after waiting 2+ hours to "shop til you drop" to only get one book.
So I left that event early too and made my way to queue for the FAN-tastic Day party. I felt a little down by this point – I'd paid $55 for my day ticket and so far only had 1 free book in a genre I enjoy, and that was due to a swap. But we all waited in line for over 2 hours again, and did some more swaps so I ended up with a Jack Reacher novel, which I'm very happy with 🙂
A few authors from other events walked down the queue giving out free books because they didn't want to carry them home with them, so that was nice too!
Then the party started and oh my god it was crazy! But crazy good 🙂 There were goody bags with books in, plus two huge tables filled with free books lining the walls, and high-top tables around the room where authors had about 15-20 copies of their books to sign and give away for free to whoever got there first. PLUS a raffle for hampers filled with books and other goodies.
Wow!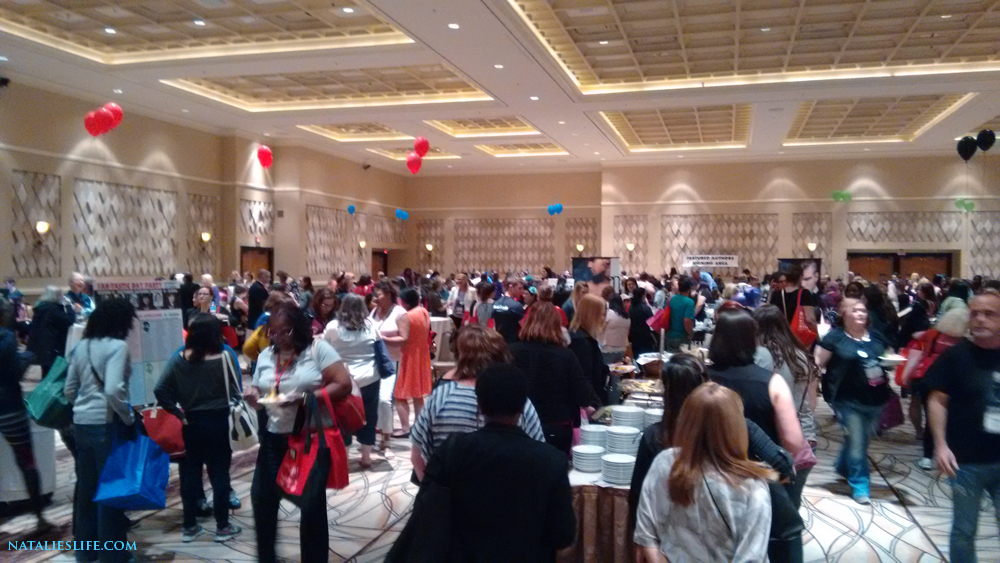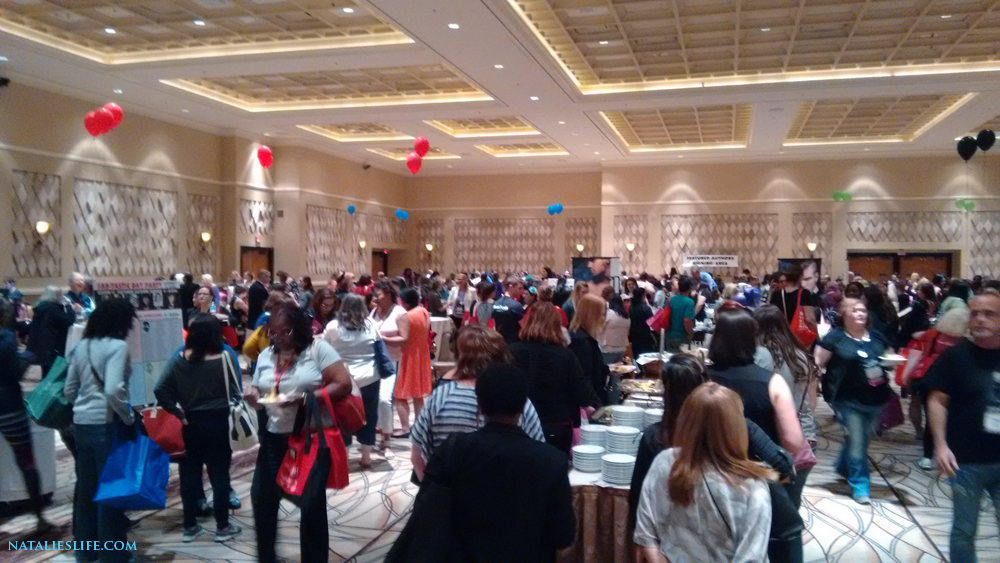 I was there for a long time and got some great books for free – some signed! Then just as I was thinking to leave, the microphone man said they were bringing in lots of new authors in a few minutes with even more books!
So I was basically in book heaven lol!
After an hour and a half I'd reached a point of physically not being able to carry any more books. The raffle was still going on and my ticket hadn't been called but I looked at my hands – filled with bags of books (plus the rolling suitcase I bought was filled with books!) and realised "where would I even put the hamper if I won it?!" So I left lol!  Happy with all the lovely free books and after having a really fun day getting to meet new people and talk about books all day.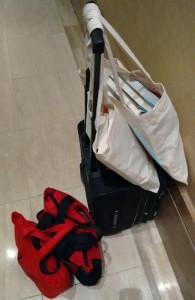 Would I recommend the RT Booklovers Convention? For the day pass I was definitely happy 🙂 I'd love to do the full week-long convention, but I honestly don't know how people do it! I was exhausted, and had achy muscles after just one day of lugging around bags of books! But I'd like to do the full week with the panels and discussions at some time, I think it would be a great experience 🙂
Have you been to the RT Booklovers Convention, or the Giant Book Fair before? What did you think?
I'll be doing another post soon about all the lovely books and authors from the convention.
If you like this blog, please share and follow: