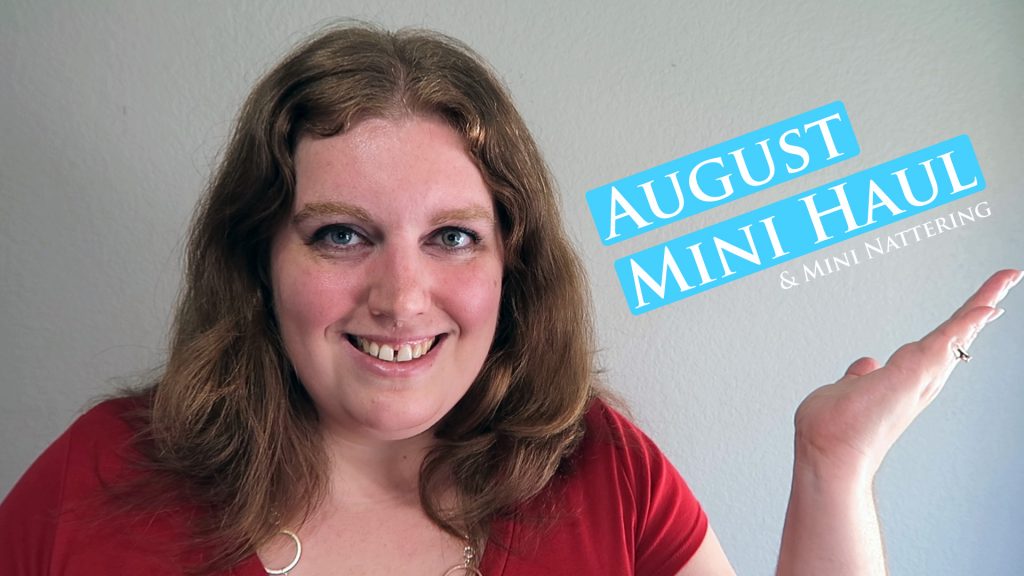 Phew it's been a while since I've been able to blog! Or vlog…or do anything that isn't related to moving house. XD
But now we're (mostly) moved and (mostly) settled into the new place and LOVING it! We've been moving fairly slowly, so we can do some DIY projects at the house before we need to move everything out of the apartment. But I can confidently say that the last box of things will be in our house by the end of the weekend. Woo!
Then we can both relax…and build some bookshelves. 😉
So August hasn't been a book-buying month really. I did buy one because I fell in love with pictures that a friend had posted online. And I got another book by happy accident – the previous owners left it (and some other things) in the house. Yay free book!
The book I bought was:
The Poison Diaries by The Duchess of Northumberland
Amazon

This truly gothic tale—a "facsimile" of Weed's journal found at Alnwick Castle, in England—is not only a story of the battle between good and evil, but an educational parable of the curative and lethal properties of plants.

Weed—an orphan boy who apprentices with an evil old apothecary—is both used and abused. His journal is part botanical workbook and part diary of his own relationship with poisonous plants.

Weed discovers that he is one of the few people whom the plants talk to, and they try to persuade him that, with their help, his master can easily be disposed of. Although he refuses at first, after Weed's first love, Marigold, experiments with the poisons and dies, he is pushed over the edge and plots to kill his master with a taste of his own evil medicine.

Each chapter of the story begins with Weed's botanical notes: a plant's appearance and properties, where it is found, how it should be cared for, the most poisonous parts, and how poison is extracted and administered. Accompanied by Weed's sketches of the plants in their natural form, his diary also reveals the "real" personalities of the plants.
The pictures in this book are just gorgeous! Beautifully drawn pen and ink drawings – I'd love to own some of the pictures to hang on a wall. (I show some of them in my YouTube video below.)
The book that came free with the purchase of our house (not such a great deal, when you think about it lol!) was:
Three Days To Never by Tim Powers
Amazon

Albert Einstein's groundbreaking scientific discoveries made possible the creation of the most terrible weapon the world had ever known. But he made another discovery that he chose to reveal to no one—to keep from human hands a power that dwarfed the atomic bomb.

When twelve-year-old Daphne Marrity takes a videotape labeled Pee-wee's Big Adventure from her recently deceased grandmother's house, neither she nor her college-professor father, Frank, realize what they now have in their possession. In an instant they are thrust into the center of a world-altering conspiracy, drawing the dangerous attentions of both the Israeli Secret Service and an ancient European cabal of occultists.

Now father and daughter have three days to learn the rules of a terrifying magical chess game in order to escape a fate more profound than death—because the Marritys hold the key to the ultimate destruction of not only what's to come . . . but what already has been.
I hadn't heard of Tim Powers before but I really like supernatural thrillers, and a quote on the back is by Dean Koontz (one of my favourite authors), so I'm looking forward to reading this.
I talk about the books in more detail on my latest YouTube video – and natter a bit about the house move and a few other things.
I'm going to be uploading more regularly on my YouTube channel, and I have a few new ideas to start over September. So if you enjoy my videos don't forget to subscribe on YouTube! 🙂
As usual I'll be taking part in Stacking The Shelves, and The Sunday Post – check out some of the other posts to find great reads 🙂
I purchased these books with my own money, and received no compensation for my honest opinion.
I am an Amazon Associate: they pay me a small commission if you use my link.
If you like this blog, please share and follow: