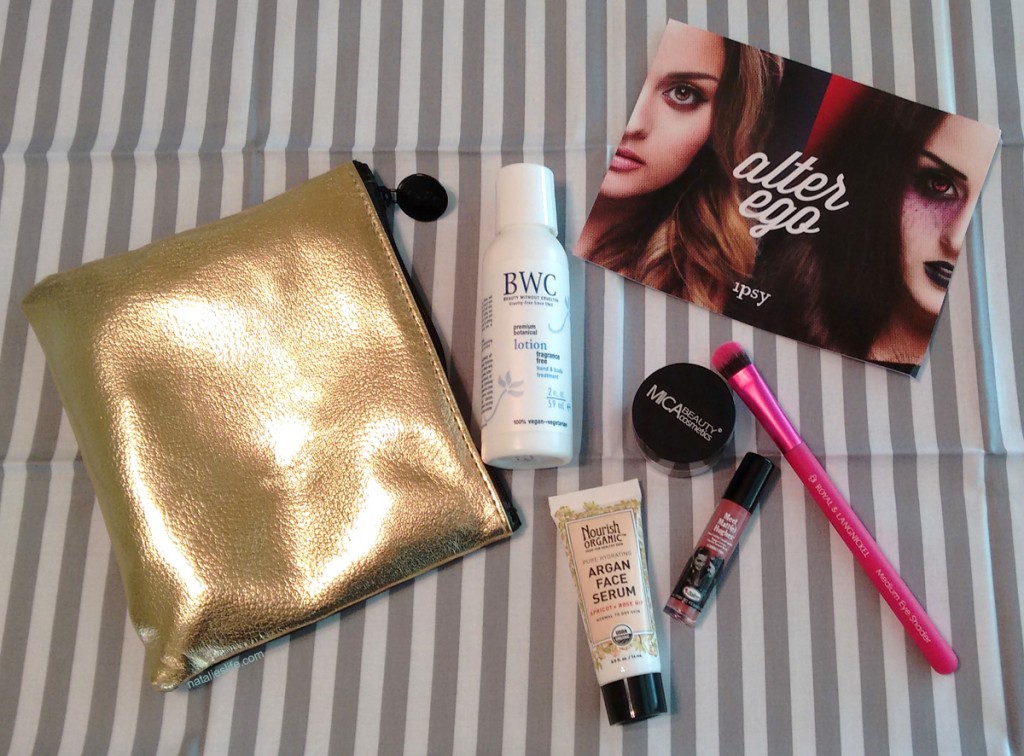 I'm not a huge fan of makeup. I wear eyeliner, lip balm, nail varnish, sometimes mascara, and occasionally lip gloss. That's about all I have in my repertoire and I'm happy with that, but I do often wonder if I'm missing out on something great – a fab moisturiser, or different brand of lip balm/gloss. I like trying new things but don't want to be spending a lot on my new-product-adventure.
So a friend told me about ipsy and I jumped at the chance of signing up – there is a waitlist! After you sign up you can do some things to skip the waitlist, if you're impatient like me hehe. (if you use my referral link I receive some points from ipsy)
Ipsy is a monthly service which sends you 4-5 full size and deluxe sample size products, for just $10 and that includes shipping! (for anyone outside of the US, do check availability and pricing for your area) The value of the products you receive is always much more than the $10 you spend. Each month has a different theme and makeup bag. This month's theme is "Alter Ego".
I've been a member for about 12 months, and have found some great new products along the way. This month's bag has some products from companies I hadn't heard of before.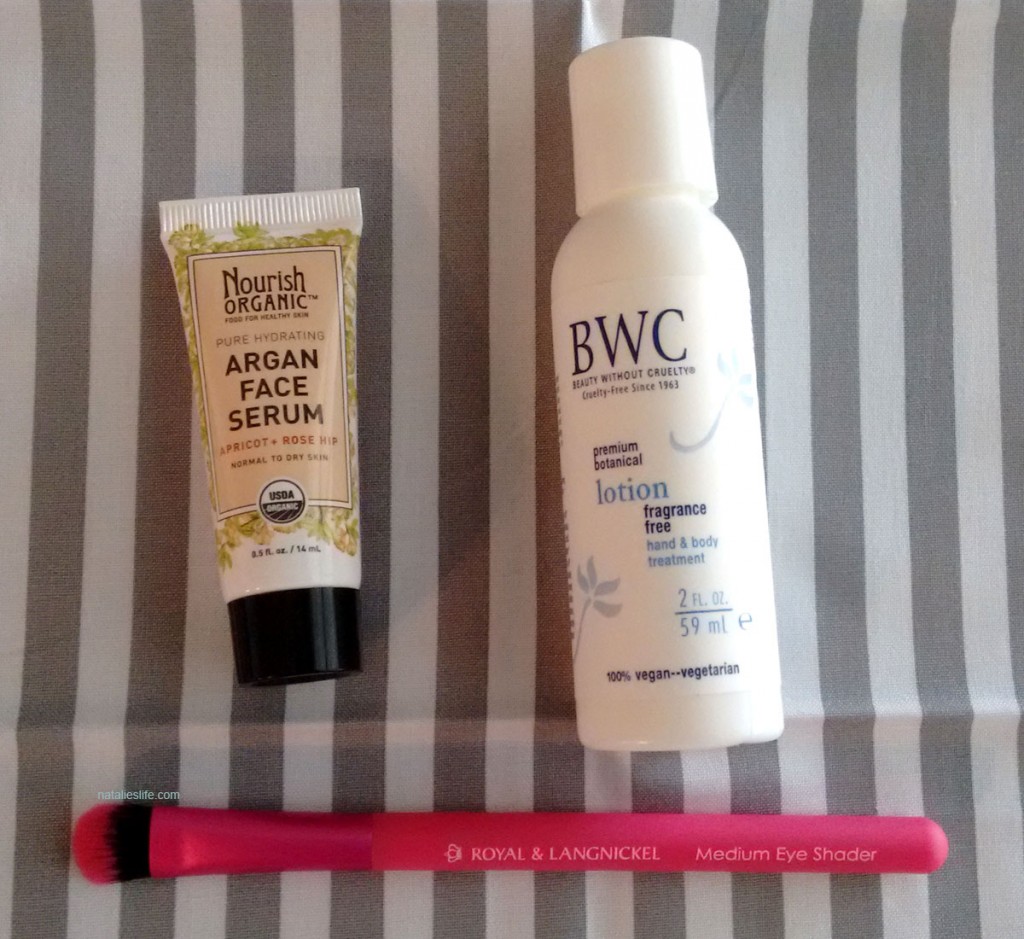 Nourish Organics Argan Face Serum: I'm not sure what a "face serum" is. Is it a moisturiser? Is it some kind of primer? The description on the website says it's a concentrated face treatment to hydrate skin and improve it's tone. Whatever it is, it smells great! I didn't realise it was almost like an oil consistency, and ended up with a lot on my hands when I tried to smell it. Lesson learned. But I've never used anything like this before, so I'm looking forward to trying it out. I also love that it's organic!
Full size (20 ml): $23.99
Size I received (14 ml): estimated $16.79
BWC Premium Botanical Lotion: This says it's vegan and vegetarian, which is something I never thought to look for in a product before. It also says fragrance free – which I like – and it just has a nice clean scent. This is for hand AND body, which is nice. Not a product I normally buy, but so far I'm impressed – it sinks in nicely and isn't sticky.
Full size (16 fl oz): $11.95
Size I received (2 fl oz): estimated $1.50
Royal & Langnickel MODA brush: I'm not really excited about the brush. I've received other kinds of brushes in past ipsy bags – they've all been good quality, I just don't need so many of them. The bristles on this one are nice and soft, and the handle has a soft-touch feel to it. I like it, but I'm not sure I'll ever use it. This specific brush hasn't yet launched on their website, so I had to estimate the value based off the other brushes they offer.
Full size/size I received: estimated $3.99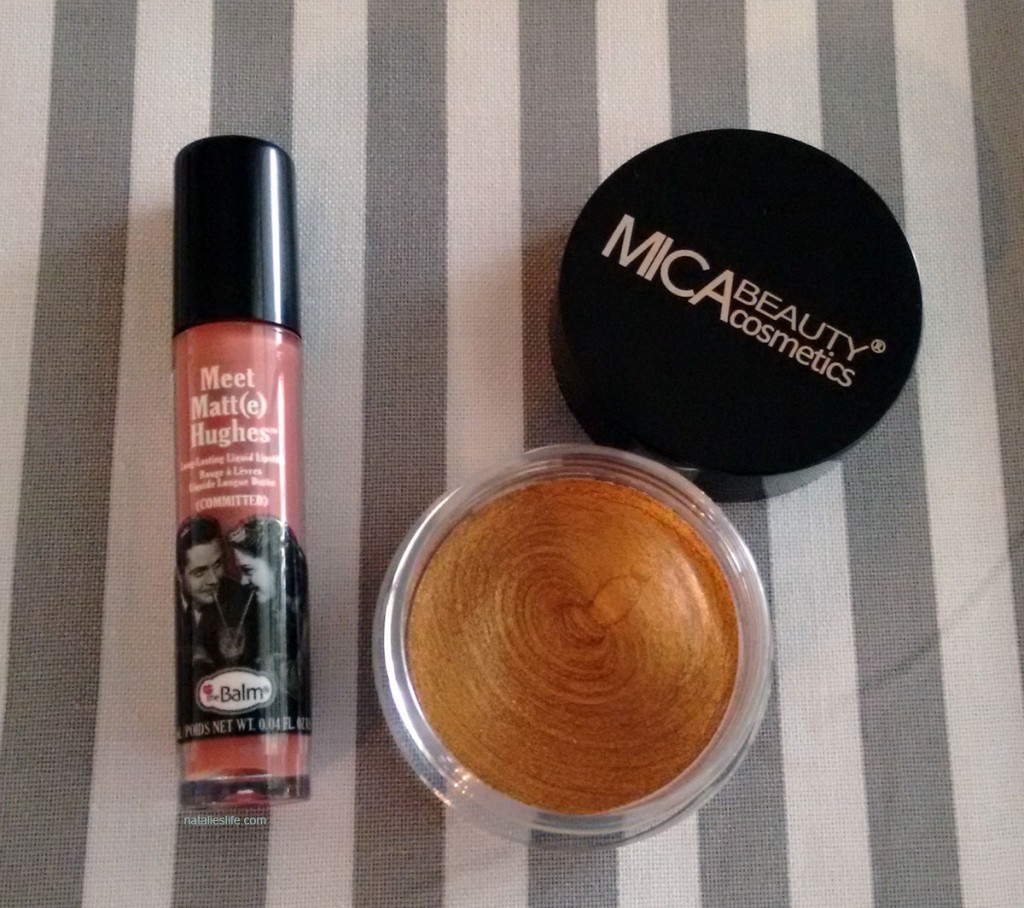 The Balm Meet Matt(e) Hughes Liquid Lipstick: liquid lipstick? I thought that was just lip gloss, but it is actually matte and feels like a lightweight lipstick when applied! It smells delicious – vanilla mint! Yum. It does feel a little bit tacky if you smush your lips together, but other than doing that to even out the application I don't think I'll be smushing all day hehe. The colour they sent me is called Committed, and it's a pinkish-nude colour. Not one I would have chosen, but I actually really like it. I'm not sure about the matte finish, that's a new one for me so I'll see how I get on with that. It does have great staying power though!
Full size (6.5 ml): $17.00
Size I received (1.2 ml): estimated $3.14
MICA Beauty Cosmetics Cream Eye Shadow: I haven't used cream eye shadow since I was in middle school, but it seems to have come a long way since then. This is a gorgeous bronze colour (appropriately named, Bronze). It feels really creamy and goes on very smooth. It seems to have good staying power too, though I've only tried it on the back of my hand so far. I'll definitely try this on my next girls night. I couldn't find it on their website, so I've estimated the value based on their mineral eye shadow.
Full size/size I received: estimated $14.95
Total value of my Ipsy October Glam Bag: estimated $40.37!
I purchased this Glam Bag with my own money, and received no compensation for my honest review.
If you use my ipsy referral link I receive some points.
If you like this blog, please share and follow: